I've been trying to get the Trinity Lutheran Church Records, volumes 1-4, through ILL for some time now with mixed results. So, imagine how pleased I was to find some of the records online in the Internet Archive. The Pennsylvania-German Society published their Proceedings and Addresses in the 1890s. Several volumes included records from Trinity… read more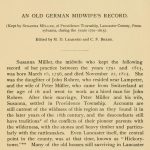 Update (7/4/2011): I've added the possible names of children and their parents where I have information. As you can see there's more to add. If you have information that fits, please send me an email. Thanks Yesterday, I was poking around online trying to find Huber information when I came across the most wonderful article…. read more
I've been going through Lancaster County deeds for Hoovers, taking notes and trying to attribute them to Hoover family members. Sometimes I can easily figure out who the deed belongs to; sometimes I just don't have enough information. One deed I've been working on helped me catch an error in my database and straighten out a family line. All by following the inheritance of land from one generation to the next.
Daniel Hoover of Conestoga Township, Lancaster County, Pennsylvania was born ca 1783 and died sometime between 24 Sep 1850 and 17 Nov 1851. He was a carpenter and apparently had a large family that included 15 children. Here is what I learned about his family from deed records.
Deed records can provide information on individuals we might otherwise have known nothing about. Such is the case of Henry Hoover of Strasburg Township, Lancaster County, Pennsylvania who died circa 1832/3, single with no issue. The deeds state he was one of eight children and name the heirs of four of his siblings—Christian, Esther[?], Elizabeth[?], and Freny.
During a visit to the Pennsylvania State Archives, I made copies of Huber/Hoover wills up through the early 1800s. I've transcribed some of those wills and posted them on this site. I also abstracted a number of Huber/Hoover wills which are posted here.
I've added two new indices to the warrantee maps for Strasburg and West Lampeter townships in Lancaster County, Pennsylvania.
Recently, I've started a document to record the facts I've been compiling for each Hoover—especially the land transactions—and became frustrated when I couldn't locate any Strasburg Township property for Henry Huber, son of Ulrich Huber, even though other deeds named it as his place of residence. Today, I finally found it!
There were two Henry Hubers living near Pequea and Beaver Creeks in the Martic/Conestoga/Strasburg/Lampeter township area in the mid-to-late 1700s. This post is about the family of the Henry Huber who married Catharine Good, daughter of Jacob Good.
Researching an individual is particularly difficult when they have a common name. It is even more difficult if there is more than one person of the same name in the same general location at apparently the same time. Such is the case with Christian Hoover of Hempfield Township, Lancaster County.