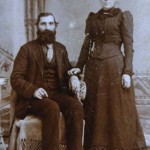 I've heard family stories about an ancestor who fought on both sides during the Civil War, but I didn't really believe it. Two brothers fighting on opposite sides? Yeah, okay. But one man fighting for both sides over the course of the war? Seemed a little far-fetched. And yet, I think that's exactly what my great great grandfather James Benjamin Houdeshell did.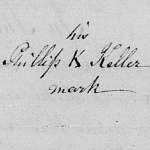 In researching Ulrich Huber of Adams and York counties, I've been looking for Philip Keller, husband of Ulrich's daughter Magdalena. All I really knew about the couple was that Magdalena had died prior to her father's death and that she and Philip had children: Eve, Catharine, Elisabeth and John.[1] Today, I came across a possible… read more
In a previous post I wrote about connections some of my Hoovers had with the Shockey family of Washington County, Maryland. In reviewing the PDF file of Maryland Historical Magazine, volume 13, number 3, I found reference to the Shockeys again. This time in relation to counterfeit money during the Revolutionary War. I'd read about… read more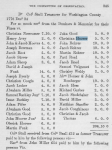 I was recently going through the stacks of materials distributed around my "office" when I came across a document I'd ordered from PERSI—"Proceedings of the Committee of Observation for Elizabeth Township District [Washington County]" from the Maryland Historical Magazine, Volume 13. I had ordered this because copies I had made at the Pennsylvania State Library… read more
I received an email a while back from a woman who was looking for information on a Jacob Hoover of Maryland and wondered if we were related. The short answer is "Yes," but not as initially thought.
In genealogical research we are told to "research the relatives, neighbors, and associates" of our family member in order to learn more about them and hopefully take our family line back another generation. However, when does an apparent series of coincidences become a connection?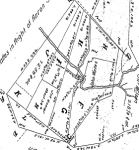 John2 Hoover (Andrew1) was born about 1744, probably in Ellerstadt, Germany, the eldest son of Andrew Hoover and his wife Catharine. John was alive at the time his father's estate was settled. He likely died sometime after 2 Nov 1811 when a deed recording his sale of some Union Township land to James Fletcher was… read more
Andreas "Andrew" Hoover (Huber, Hubner), son of Gregor Jonas and Anna Maria (Kruetzer) Huber, was born 1 Jan 1723 in Ellerstadt, Bad Dürkheim, Germany and baptized 7 Feb 1723/5 in Ellerstadt, sponsored by Andreas Hartman. [1],[2] He died sometime between 25 May and 24 Jul 1784 in Union Township, Fayette County, Pennsylvania.[3] Andrew married Catharine… read more
I've created a personal map on Google Maps of some of my research places. I find it very helpful to see the locations I've found in my research on a map. It gives me a better idea of the distances between places and also shows me the surrounding villages/town. Proximity can make a good case… read more