I've been focusing recently on some of my female ancestors for whom I have little or no information. With surnames like Leedy, Frantz, Landis and Hershey, these are well-established—and I would have thought—well-documented families. When it comes to my ancestors, not so much.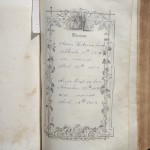 I was recently contacted by a reader who is in possession of Adam Hocker's family bible. I'm hoping to put him in touch with a living descendant.
Just the  other day I had reason to go looking for the articles I had written on my research on John and Jacob Hocker, sons of my ancestor Johan Adam and Sophia Maria (Hershey) Hocker. I wanted to send links to someone who had emailed me regarding another Jacob Hocker, son of Adam and Eve… read more
John and Jacob Hocker, sons of Adam Hocker, disappeared from Dauphin County, Pennsylvania in the late 1830s. What happened to them? Where did they go? This article starts to examine the possibilities.