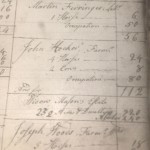 John Hocker's listing in the 1785 Whitemarsh Township, Montgomery County, Pennsylvania tax list.
William Wingeard determined that there was a problem with establishing George Hocker Jr.'s date of death. In this post I will examine the conflicting data he found and explain what my subsequent research revealed.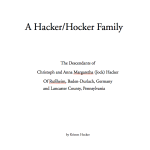 9 Sep 2012
When I began this project I imagined I would be re-creating my great uncle William Wingeard's manuscript for A German-American Hacker-Hocker Genealogy and publishing it in a second volume. However, the more I got into the project, the more I learned about the practice of genealogy, the more I wanted to strengthen Bill's work by… read more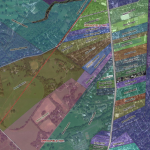 I've been working on the Philadelphia Hocker branch of the family for my book A Hacker/Hocker Family recently. Learning about "Mapping West Philadelphia: Landowners in October 1777″ was a fantastic find!
Taking advantage of Ancestry's free access to census records this weekend. Added a couple generations onto the Philadelphia Hockers.
Today, I found the second reference to a Samuel Hocker associated with my Hacker-Hocker family. Another clue in the mystery of Christopher Hocker (ca 1776-?)!
My 3x great grandmother Lydia (Bobb) Eshbach died on 16 Mar 1859. She was 53 years, 4 months, and 10 days old.
My 4x great grandfather Philip Kline was born on 6 Mar 1799, most likely in Montgomery County, Pennsylvania. He died 30 Jan 1877.
My great great grandfather Dr. Charles T. Waage died on 6 Mar 1921 in Pennsburg, Montgomery County, Pennsylvania.
My great great grandfather Henry D. Snyder was born on 3 March 1859 to Joseph and Judith (Deysher) Snyder of Montgomery County, Pennsylvania. He died 30 Sep 1931.
My 8x great grandfather Hans Thiebold Jock died on 3 Mar 1708 in Rußheim, Baden, Germany.
My great great great grandmother Helena (Person) Dillinger died on 3 Mar 1893, quite likely in Lehigh County, Pennsylvania.
Do You Know Me? The next installment in the Unidentified Pennsylvanians series features a photo of a young woman who may have lived in Montgomery County, Pennsylvania in the early 20th century.