Samuel HACKER, youngest son of Frederick and Catharina (FUCHS) HACKER, was born 24 Jul 1799 in Cocalico township, Lancaster county, Pennsylvania and christened on 6 Oct 1799 at Emanuel Lutheran Church in Brickerville. He died 5 Nov 1855 at age 56 years, 3 months and 10 days in Ephrata township, Lancaster county, Pennsylvania and was… read more
Catharina STEINER, daughter of Frederick and Catharine (___) STEINER, was born 27 Mar 1799 in Cocalico township, Lancaster county, Pennsylvania and died 8 May 1823. She was buried in the Emanuel Lutheran Church (Warwick Congregation) Cemetery in Brickerville, Warwick township, Lancaster county, Pennsylvania. She was married to Jacob HACKER, son of Frederick and Catharina (FUCHS)… read more
In May of 1780, Jacob Waller sold a tract of land—part of a 1769 survey on Redstone Creek—now part of Union township, Fayette county to Andrew Hoover, Jr. This land was then signed over to Jacob Pindle/Pindell by Andrew Hoover in August of 1780. Sixteen years later, Jacob Pindell signed over this land to Jonathan Rowland and wife Susannah "in trust for the heirs of" Conrad Herbaugh on May 3rd, 1796.
If you're researching your family history, deeds can be an excellent source of information, placing a family member at a specific place at a specific time. They can sometimes provide clues to where a person came from or went to. And, if you're lucky, they can also provide information on family relationships.
Here is an index to some deeds for HOOVERs in Fayette county in the late 1700s and early 1800s.
Jacob HACKER, son of Frederick and Catharina (FUCHS) HACKER, was born 23 May 1791 in Cocalico township, Lancaster county, Pennsylvania. He was christened 26 Jun 1791 in the Emanuel Lutheran Church, Brickerville, Warwick township, Lancaster county, Pennsylvania. He married twice, first to Catharina STEINER, daughter of Frederick and Catherine (___) STEINER, on 23 Aug 1818,… read more
In 1786, Henry HOOVER of Fayette County, Pennsylvania finalized a deed for two tracts of land in Washington County, Maryland between his father Andrew HOOVER's estate and Jacob SHANK of Washington County, Maryland.[1]  These tracts were purchased by Andrew in 1779 from Francis Deahnis and William Deahnis Jr. of Montgomery County, Maryland as part of… read more
Here's a transcription of the obituary of Herbert Hershey Hocker (1865—1946), son of Levi and Anna (Frantz) Hocker. Hershey married Sarah J. Bower, daughter of John and Amanda (___) Bower, 1 Apr 1906 in Yoe, Pennsylvania. [1] "H. Hershey Hocker Funeral services for H. Hershey Hocker, 554 Race Street, who died Tuesday night after a… read more
David Elmer Hocker was listed as a baker in the 1910 US census and as a baker for the Butter Pretzel Baking Co. in 1930. According to the above photo, David Hocker was the proprietor of the Butter Pretzel Baking Co. in Harrisburg. His sons were also employees of the company in 1930.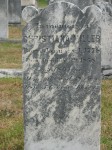 Christiana MILLER, daughter of Christopher and Maria Barbara (STOBER) MUELLER, was born 1 Jan 1778 in Lancaster county, Pennsylvania and died 29 Oct 1858. She was the wife of George HOCKER, son of Johan "Hans" Adam and Maria Elisabetha (WEIDMAN) HACKER. Christiana was buried in the Emanuel Lutheran Church (originally the Warwick Congregation) Cemetery in… read more
David Elmer Hocker, son of Jacob L. and Susanna (___) Hocker, was born 12 Aug 1880 in Buck county, Missouri and died 8 Sep 1945 in Pennsylvania. He married Carrie May Baker, daughter of Henry J. and Sarah A. (___) Baker, on 15 Oct 1867 in Halifax township, Dauphin county, Pennsylvania. David and Carrie had… read more