Thelma Mae Houdeshell, daughter of George W. and Lovina Caroline (Force) Houdeshell, as a young woman. She was born 11 Sep 1904 in Pine Glen and died 15 Jan 2001 in New York. She was married to Philip Allen Young.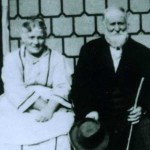 Samuel Thomas, son of Christian and Caroline (Kinnard) Hoover, married Victoria Walker, daughter of Jacob C. and Mary M. (Eckley) Walker, in 1879. They lived in Pine Glen, Burnside township, Centre county, Pennsylvania. This photo was taken during their old age, but before Samuel's death in 1930.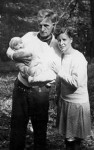 This is a photo of Robert Thomas Alexander Smith. He was the youngest child of William and Eliza Craig (Bonnington) Smith. He married and divorced without having children. This photo was taken at the Hocker hunting camp in Perry County, Pennsylvania. I believe the infant may be Robert's great-nephew.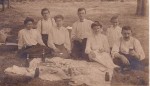 I found this photo among the Greulich family photos. The dark-haired couple on the left is Elmer and Lillian (Snyder) Greulich.  I'm not sure who the others are, but I believe they are relatives of Elmer.
Orvis Maxwell Rowles was the son of Luther and Anna Belle (Houdeshell) Rowles. He was born 3 Apr 1922 and died 20 Dec 1994.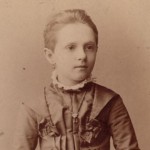 Mary Catherine Waage, daughter of Dr. Charles Theodore and Lydia S. (Eshbach) Waage, was born 27 Oct 1877 in Pennsburg, Montgomery county, Pennsylvania. She married Edwin Joshua Wieder.
Mary Louisa Hocker, daughter of Johannes and Elizabeth (Henry) Hocker, married Samuel Hoch/Hoke 22 Nov 1860. She was born circa 1840/42 in Hockersville, Dickinson Township, Cumberland County, Pennsylvania. Photo courtesy of Elizabeth Hoke
I  labeled this photo Mary and Ethel Hocker. Ethel Hocker was the daughter of Albert Curtin and Lillian (Leedy) Hocker. She married twice, first to Harry Thomas Allen and second to Wesley Edward Foster, Jr. I am presuming the Mary Hocker refers to Mary (Curran) Hocker, wife of Levi Ainsley Hocker and Ethel's sister-in-law.
Martin Luther Hocker, son of Johannes and Elizabeth (Henry) Hocker, married Mary Ann Brindle 17 Oct 1850 in Carlisle, Pennsylvania. The couple later moved to Bourbon County, Kansas. Photo courtesy of Elizabeth Hoke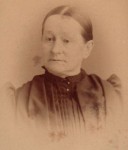 Lydia (Eshbach) Waage, daughter of Henry M. and Catherine Lydia (Bobb) Eshbach, married Dr. Charles T. Waage 29 Aug 1877. The couple had one daughter Mary Catherine Waage.