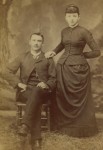 Horace K. Witmer and Mary A. Breish  married about 1891.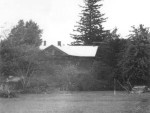 The Hoover house in Pine Glen, Burnside township, Centre county, Pennsylvania. The house lies on the road between Karthaus and Pine Glen. My grandmother tells me that her father remembered the house being built, sometime in the 1890s. His father worked on the construction. The house was allegedly built for Caroline (Swimer) Mulhollan by her… read more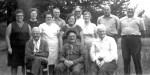 Clyde Hoover's family in Pine Glen, circa 31 Oct 1971 at his 85th birthday. Left to right: Standing- Gladys "Peg" (Hoover) Sheffer, Ruth "Kate" Hocker, Jean Crestani, Russell Hoover, Helen (Hoover) Yingling, Donald Hoover, Isabel "Betz" (Hoover) Plubell, Robert Hoover, Clyde Hoover Jr. Sitting- Lloyd Hoover, Clyde Hoover, Edward Hoover (3 brothers, sons of Samuel… read more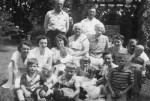 The family of William H. Hocker, including brother-in-law Robert Thomas Alexander Smith (standing left), wife Isabella (seated center left) and mother-in-law Eliza Craig (Bonnington) Smith Cochrane (seated center right). Standing: Robert Smith, William H. Hocker Sr. Seated, back: Meriam (Hocker) Ziegler, Isabella (Hocker) Ruder, Anna Louise (Hocker) Hoover, Isabella (wife), Eliza Smith Cochrane, Ruth Hocker,… read more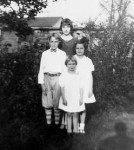 Four of the children of William H. Hocker Sr. (In back: Isabella; Middle: William, Jr. and Anna Louise; Front: Betty Jean) probably taken circa 1927—1929.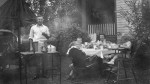 A Hocker family barbeque about 1946. William Hocker, Sr. is at the grill.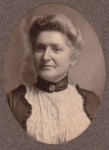 Saraphine K. Witmer, daughter of Edward and Lydia Amanda (Kline) Witmer, was born 20 Oct 1861 in Pennsburg and died 4 Aug 1938 in Lansdale, Montgomery county, Pennsylvania. Photo probably taken in circa the 1890s.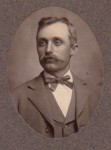 Henry D. Snyder, son of Joseph and Judith (Deysher) Snyder, was born 3 Mar 1859 and died 30 Sep 1931 in Montgomery county, Pennsylvania. He married Saraphine K. Witmer about 1879. Photo probably taken circa the 1890s.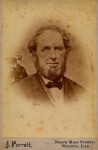 George Washington Hocker, born 16 Aug 1814 in Ohio, died 21 Dec 1877 in Montgomery county, Pennsylvania, was the son of Christopher Hacker who, finding himself in debt, left Pennsylvania about 1808. The son returned to Pennsylvania, but nothing more is known about the father. Photo courtesy of Virginia Goff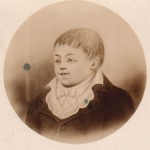 The Reverend Caius Frederic Sophus Waage was born 17 Aug 1797 in Schleswig, Holstein, Denmark (now Germany) and died 23 Aug 1884 in Pennsburg, Montgomery County, Pennsylvania. He studied at the University of Keil in Germany and came to the United States in 1819.