I've been using the "York County, Pennsylvania Orphans Court Records index, 1749-1840" in researching the families associated with Ulrich Hoover of Adams and York counties. Since I've had to go back several times, I've been bookmarking the start of surname starting letter sections as I use them. Randy Seaver suggested in one of his Follow-up… read more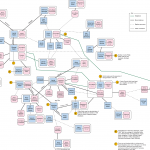 Creating a diagram to visualize connections between associates of Ulrich Hoover provided insight into the relationships between those people, helped point my research in a new direction, and answered some of my questions along the way.
Last time, in Part 2 I provided a long list of information pertaining to Ulrich Hoover in a chronology. As you read through it, however, you'll notice a number differences between this information and what we learned about Ulrich from his estate records. Additionally, you can see several inconsistencies between the individual pieces of data…. read more
While I was researching Ulrich Hoover of York & Adams Counties, I decided to put together a timeline that included all the information I'd found for "Ulrich Huber" in York County & the surrounding area for the late 1700s. I wanted to see what I had, whether or not it made sense, and whether or… read more
Ulrich Hoover of York and Adams counties became of interest to me because of a possible connection to Christian Hoover of Heidelberg Township, York County. Ulrich had come up in the data I've been compiling on Hoovers of Pennsylvania and Maryland, but since I've been focusing on Lancaster County Hoovers, I hadn't researched him. Most… read more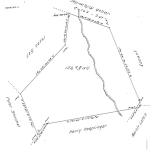 A little while back I did a series of posts about Christian Hoover of Heidelberg Township, York County. Yesterday while researching the estate of Henry Küny (?1740-1781), presumably the husband of Christian's sister Ann, I came up with a new theory regarding his relationship to Christian.
I've been researching Ulrich Huber of Adams and York County recently. Here's a transcript of the petition to partition his York County property put forth by his son Henry Hoover.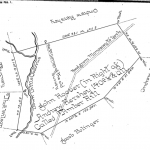 In reviewing some information on John Hoover (Ulrich1), I came across the following: "May also be the John [Hoover] who had 50 acres surveyed on May 10, 1768, in York Co. called "Timber Hill."[1] It sounded familiar, so I looked it up. The tract was warranted to Andrew Hershey on 24 October 1738 and patented… read more
I was recently contacted by a reader who found one of my posts on Christian Hoover of Heidelberg Township, York County, Pennsylvania. She thought the information was interesting, but didn't see how it was pertinent because it directly conflicted information she believed to be true. Following up, this is what I learned.
I've recently blogged about my quest to find out more about Christian Hoover of Heidelberg Township, York County, Pennsylvania and the brothers he named in his 1771 last will and testament: Jacob, Ulrich and Henry. Looking for more information, I requested his widow's estate file. And now I'm all out of ideas…