My great great grandfather Emanuel John Wieder was born on 11 November 1855, most likely in Lehigh County, Pennsylvania.[1] He was the youngest son of Saulus and Anna (Mechling) Wieder of Lower Milford Township, Lehigh County, Pennsylvania.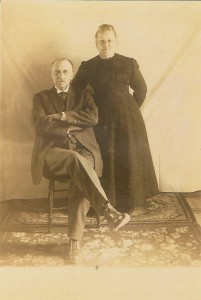 On 10 June 1878, he married Alavesta "Vesta" Esther Dillinger, daughter of Willam D. and Helena (Person) Dillinger of Lehigh County. She was born 19 Oct 1857, likely in Upper Milford Township.[2]
E.J. Wieder, Sr. was initially a teacher and a farmer, but—due to health concerns, I believe—became a bank cashier, working his way up to bank president by 1929.[3] He built a house on main street in Pennsburg in 1902 and moved his family from the farm in Lower Milford Township into town.[4]
He died of stomach cancer on 26 July 1929 in Pennsburg and was buried in St. Mark's Union Church cemetery on the 30th.[5] Vesta had died on 11 January 1923 in Pennsburg of angina and Bright's disease. She was buried in St. Mark's Union Church cemetery on the 16th.[6]
E.J. and Vesta had the following children:
Edwin J. Wieder

(29 March 1880—22 January 1960) married Mary Catharine Waage (27 October 1877—28 November 1970)

Cora Anna Wieder

(June 1886—1964) married Vallandingham S. Trumbore (23 October 1883—August 1968)

John William Wieder

(1 September 1887—November 1972) married Katherine Jane Gruelich (22 March 1887—September 1960)
Photo courtesy of John William Wieder Jr.
Cite This Page:
Kris Hocker, "Surname Saturday: Emanuel John Wieder," /genealogy the genealogy & family research site of Kris Hocker, modified 7 Apr 2013 (http://www.krishocker.com/surname-saturday-emanuel-john-wieder/ : accessed 31 Jan 2015).
Content copyright © Kris Hocker. Please do not copy without prior permission, attribution, and link back to this page.