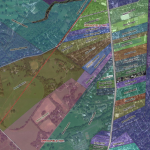 I've been working on the Philadelphia Hocker branch of the family for my book A Hacker/Hocker Family recently. Learning about "Mapping West Philadelphia: Landowners in October 1777″ was a fantastic find!
On 13 February 1805, the Martic Township school board included: Henry Bowman, Martin Huber, Benjamin Hart, Christian Musser, Daniel Herr, Martin Eshleman, Martin Huber (joiner), Isaac Herr, Joseph Bassler, Jacob Huber, Jacob Kochenauer, Henry Resh, John Kindig, Jacob Brubacher, John Winter, John Huber, John Huber Junr., Abram Kochenauer Senr., Abram Kochenauer Junr., George Hess, John… read more
I've recently blogged about my quest to find out more about Christian Hoover of Heidelberg Township, York County, Pennsylvania and the brothers he named in his 1771 last will and testament: Jacob, Ulrich and Henry. Looking for more information, I requested his widow's estate file. And now I'm all out of ideas…
I've been curious about Christian Hoover of Heidelberg Township for a while. His will names his brothers: Jacob, Ulrich and Henry, but doesn't provide any more information than their names. I'd really like to find more information on them to flesh out this family.