On 22 November 1717, the Proprietaries of Pennsylvania warranted 5,000 acres to Martin Kendig and John Herr in then Conestoga, Chester County.[1]  I. Taylor surveyed 210 acres on the Pequea, adjoining Widow Hoober, Ulrich Hoober, and John Ffarrer, part of the 5,000 acres warranted to Martin Kendig and John Heer, to Hans Boyer on 10… read more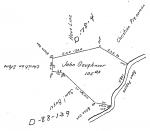 On 24 Jan 1733, John Goughnour warranted 105 acres on a branch of the Pequea in Conestoga (now Pequea) Township, Lancaster County, Pennsylvania, recorded in Lancaster County Warrants #G14. Three days later, John Taylor surveyed the property, noting it adjoined Christian Preaaman [sic], Have Line [sic], Christian Stone, and Samuel Buyer.[1] On 15 April 1761,… read more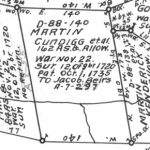 On 22 November 1717, Martin Kendig (Kendick, Kendrick, Cundigg) and John Herr (Heer) were warranted 5,000 acres in Lancaster County by the Proprietaries of Pennsylvania. They, in turn, transferred this land to their fellow immigrants. On the 12th of 9mo (November) 1720, four tracts on the Pequea were surveyed in the right of Martin Kendig… read more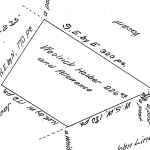 Last week's article for the "Along the Pequea" series, traced the land transactions of Hans Line's property. This week, we'll follow the transactions of his neighbor, Ulrich Huber.
About 1715 or 1716, Martin Kendig returned to Europe to convince other Mennonite families to come to Pennsylvania. On 22 November 1717, Martin Kendig & Co. (John Herr) were issued a warrant for 5,000 acres in Chester County. These 5,000 acres were surveyed in the following years to a number of immigrants in right of Kendig & Herr. This article includes a list of names and surveys and links to the online documents.
Starting off the "Along the Pequea" series is an article outlining the transfer of ownership for Hans Line's original patent tract on a branch of Pequea Creek in Conestoga (now Pequea) Township, Lancaster County, Pennsylvania from the patent date of 1735 through transactions by two of his great grandsons in the 1810s.
I'm sure you've heard or read that learning about your ancestor's neighbors can greatly assist your family research. None of our ancestors lived in isolation. They had family, friends and neighbors who often shared their language and customs. These social groups often intermarried, moved and settled together, and sold land to or purchased land from each other. I'm starting a new series of articles that will trace land transfers on Pequea Creek from the original warrantee through 1800.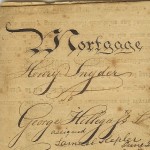 Among my grandfather's papers, I found the original document of a mortgage between Henry Snyder and George Hillegas for 62 acres 40 perches in Upper Hanover Township, Montgomery County, Pennsylvania. The document was dated 17 Aug 1830!
I've been going through Lancaster County deeds for Hoovers, taking notes and trying to attribute them to Hoover family members. Sometimes I can easily figure out who the deed belongs to; sometimes I just don't have enough information. One deed I've been working on helped me catch an error in my database and straighten out a family line. All by following the inheritance of land from one generation to the next.
Daniel Hoover of Conestoga Township, Lancaster County, Pennsylvania was born ca 1783 and died sometime between 24 Sep 1850 and 17 Nov 1851. He was a carpenter and apparently had a large family that included 15 children. Here is what I learned about his family from deed records.