I've been using the "York County, Pennsylvania Orphans Court Records index, 1749-1840" in researching the families associated with Ulrich Hoover of Adams and York counties. Since I've had to go back several times, I've been bookmarking the start of surname starting letter sections as I use them. Randy Seaver suggested in one of his Follow-up… read more
Ulrich Hoover of York and Adams counties became of interest to me because of a possible connection to Christian Hoover of Heidelberg Township, York County. Ulrich had come up in the data I've been compiling on Hoovers of Pennsylvania and Maryland, but since I've been focusing on Lancaster County Hoovers, I hadn't researched him. Most… read more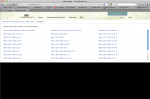 The FamilySearch website includes a collection entitled "Pennsylvania, Probate Records, 1683-1994." While it isn't indexed and doesn't include every county, it's pretty easy to use once you figure it out.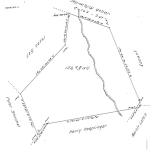 A little while back I did a series of posts about Christian Hoover of Heidelberg Township, York County. Yesterday while researching the estate of Henry Küny (?1740-1781), presumably the husband of Christian's sister Ann, I came up with a new theory regarding his relationship to Christian.
I've been researching Ulrich Huber of Adams and York County recently. Here's a transcript of the petition to partition his York County property put forth by his son Henry Hoover.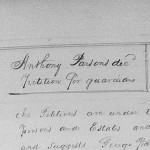 After learning that Anthony Parsons might be Sarah (Parsons) Leedy's father, I decided to see if I could find more information on him. From his tombstone, I know that he died in 1834. So, I decided to see if I could find any estate records for him on FamilySearch.org.
William Wingeard determined that there was a problem with establishing George Hocker Jr.'s date of death. In this post I will examine the conflicting data he found and explain what my subsequent research revealed.
Today, I found the second reference to a Samuel Hocker associated with my Hacker-Hocker family. Another clue in the mystery of Christopher Hocker (ca 1776-?)!
Here's part two of Thomas Kinnard's estate records. (You can read part one here.) In pursuance of a writ of Partition or valuation on the Real Estate of Thomas Kinnard late of Burrel [sic] Township Deceased by the Orphan's Court of the County of Armstrong granted and to R M Kiskaden Esq High Sheriff of… read more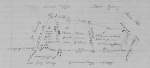 Petition of Benjamin F. Kinnard for Partition of the Estate of Thomas Kinnard late of Burrell Township, Deceased To the Honorable the Judges of the Orphans Court in and for the county of Armstrong in the Commonwealth of Pennsylvania ~ The Petition of Benjamin F. Kinnard of the said County Respectfully Showeth that he is… read more