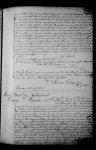 George Hocker of Swatara Township, Dauphin County, Pennsylvania, wrote his last will and testament on 13 September 1873 and it was proven one month later on 14 November. Here is a transcript of that will.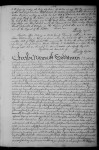 In trying to trace my Deisher ancestors, I followed a path to Jacob Teysher (aka Deischer) of Maxatawny Township, Berks County, Pennsylvania. He wrote his last will and testament on 17 December 1803 and it was proven on 6 January 1804. Here is a transcript.
Going through a stack of documents to file, I found an administration account I wanted to scan. Lo and behold there were actually two documents—I'd forgotten that I'd ordered the second. It was the administration bond for Jacob Huber of Martic Township. Here's a transcription of the document.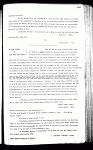 Trying to find the descendants of a target person can sometimes feel like a game of "six points of separation" when you have to widen your scope to research family and friends. However, the indirect path can sometimes yield results—as in a series of deeds I found for John Funk of Strasburg Township, Lancaster County, Pennsylvania which gave me the names of the grand-children of his sister Anna Maria (Funk) Hoover. This deed is one example.
I've been using the "York County, Pennsylvania Orphans Court Records index, 1749-1840" in researching the families associated with Ulrich Hoover of Adams and York counties. Since I've had to go back several times, I've been bookmarking the start of surname starting letter sections as I use them. Randy Seaver suggested in one of his Follow-up… read more
Ulrich Hoover of York and Adams counties became of interest to me because of a possible connection to Christian Hoover of Heidelberg Township, York County. Ulrich had come up in the data I've been compiling on Hoovers of Pennsylvania and Maryland, but since I've been focusing on Lancaster County Hoovers, I hadn't researched him. Most… read more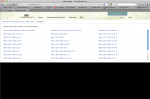 The FamilySearch website includes a collection entitled "Pennsylvania, Probate Records, 1683-1994." While it isn't indexed and doesn't include every county, it's pretty easy to use once you figure it out.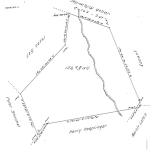 A little while back I did a series of posts about Christian Hoover of Heidelberg Township, York County. Yesterday while researching the estate of Henry Küny (?1740-1781), presumably the husband of Christian's sister Ann, I came up with a new theory regarding his relationship to Christian.
I've been researching Ulrich Huber of Adams and York County recently. Here's a transcript of the petition to partition his York County property put forth by his son Henry Hoover.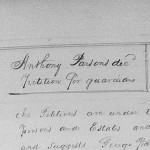 After learning that Anthony Parsons might be Sarah (Parsons) Leedy's father, I decided to see if I could find more information on him. From his tombstone, I know that he died in 1834. So, I decided to see if I could find any estate records for him on FamilySearch.org.