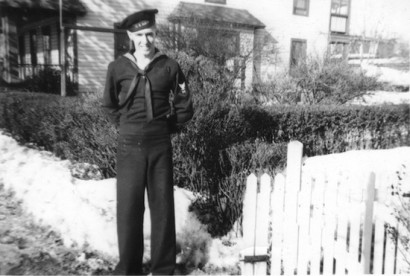 Horace Witmer, son of Edward J. and Lydia (Kline) Witmer, was born 21 Dec 1864 and died 5 Dec 1926. His wife, Mary A. C. (Breish) Witmer, was born 8 Jan 1870 and died 31 Mar 1944. They are buried in St. Paul's Lutheran Church Cemetery, Red Hill, Montgomery County, Pennsylvania.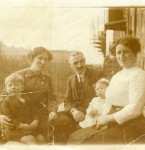 The back says: "Taken a week past Sunday when up. That is Roy [Rog] next door sitting on Crissie's knee" and also "Peter Chrissie May Jessie & a little boy that always with May."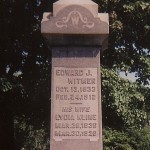 Edward J. Witmer, son of John and Rachel (Jones?) Witmer, was born in Quakertown 13 Oct 1833 and died near Finland 24 Jan 1912. His wife, Lydia Amanda (Kline) Witmer, daughter of Philip and Lydia (Markly) Kline, was born 26 Mar 1836 near Pennsburg and died 30 Mar 1926 in Red Hill.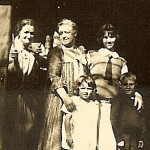 A photo taken at the Hocker hunting camp in Perry County, Pennsylvania circa 1924. I'm not completely certain of the folks in the photo, but I think it's—Isabella (Smith) Hocker, Lillian (Leedy) Hocker, unknown teenager [possibly Lillian or Ethel Allen], Anna Hocker, William Hocker, Bonnie Hocker and Betty Jean Hocker.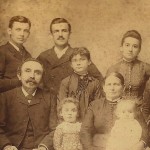 Today's photo is the Charles and Caroline (Wolf) Greulich family of East Greenville, Montgomery County, Pennsylvania. The photo was taken circa 1887.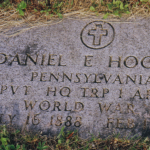 A gravestone photo of Daniel Edgar Hoover, only son of Reuben and Emma (Coleburn) Hoover, of Karthuas, Clearfield County, Pennsylvania, was born 16 Jul 1887 and died 11 Feb 1966. He was buried in the Oak Hill Cemetery in Oak Hill, Karthaus Township, Clearfield County, Pennsylvania. Daniel served during World World I.