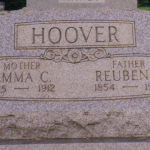 Reuben Hart Hoover, eldest son of Christian and Caroline (Kinnard) Hoover was born in 1854, probably in Jefferson County, Pennsylvania, and died 5 Mar 1900 of consumption. He married about 1875 Emma Clara Coleburn, born Mar 1845 and died 12 Sep 1912. They are both buried in Oak Hill Cemetery, Karthaus Township, Clearfield County, Pennsylvania…. read more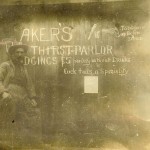 I think the drawing of the knife and gun that were "to be given up before served" really makes the picture!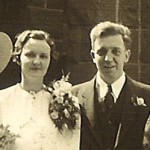 A wedding photo taken on 12 Jun 1937 in front of the Grace Lutheran Church in Norristown. It includes (L to R): Elizabeth "Lizzie" Bobb, Edwin J. and Mary Catharine "Mae" (Waage) Wieder (parents of the bride), Gertrude Wieder (bride's sister), Mildred (Wieder) Greulich, Russell Greulich, Lillian Witmer (Snyder) Greulich (groom's mother), Helen Wieder (bride's… read more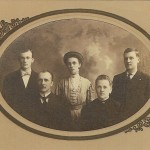 A family portrait of the Emanuel J. Wieder family of Pennsburg, Pennsylvania, circa 1905.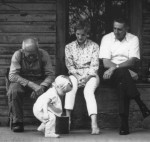 Here's a photo of 3 generations: Clyde Hoover, his son-in-law, grand-daughter-in-law, and great grand-daughter Kris Hocker (yeah, that's me!), circa 1971.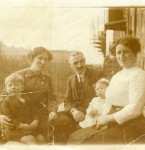 Going through the family photos, I came across another photo labeled as Jessie. A photographic clue as to the identity of "Aunt Jessie."
I have a few photos that likely belonged to my paternal great-grandmother Isabella Aitken (Smith) Hocker or her mother Eliza Craig (Bonnington) Smith. Most of them are not labeled, but even the ones that are don't actually tell me enough to identify the people in them. And, of course, everyone who might know has long since passed away.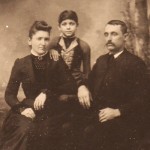 A portrait of the Henry D. Snyder family of East Greenville, Pennsylvania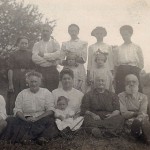 It's amazing what you find when you go looking. I was rescanning some photos that are already on the site and came across this photo and several others that were obviously taken on the same day.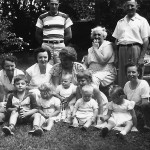 A Hocker family photo taken of the Will and Isabella (Smith) Hocker family at their home on 17 Aug 1950. It includes all their children and grandchildren.