Fever struck Harrisburg during the early 1790s. Many of the town's inhabitants blamed the disease on the stagnant water at the local mill. In 1795, they decided to do something about it. This is the story of the Landis mill dam incident.
It's funny how a record that you dismissed as irrelevant—because it did not pertain to the person you were researching—can abruptly become relevant with additional research.
At the age of 85 years, George Walker [died] at his residence at Marsh Creek, on Friday of last week. He was the father of twenty-six children. The funeral took place on Sunday.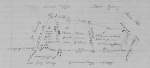 Petition of Benjamin F. Kinnard for Partition of the Estate of Thomas Kinnard late of Burrell Township, Deceased To the Honorable the Judges of the Orphans Court in and for the county of Armstrong in the Commonwealth of Pennsylvania ~ The Petition of Benjamin F. Kinnard of the said County Respectfully Showeth that he is… read more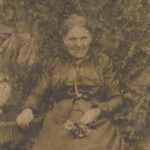 A while back I wrote about what I had learned about my ancestor James Buchanan. I wasn't sure if all the information I'd found pertained to the same man. I'm still not sure, but I have new information to ponder. My ancestress Elizabeth Buchanan married Peter Purvis Bonnington on 17 Jun 1864 at Bloomyhall, Junipergreen,… read more
According to the marriage record I found for my ancestors James Smith and Isabella Aitken, they were married 25 Dec 1840 in Carnwath Parish, Lanarkshire, Scotland.[1] This couple has been very difficult to document. After much struggling, I managed to find them in Whitburn, Linlithgow, Scotland in the 1851 census, but hadn't been able to… read more
Today's Fearless Females entry is about the marriages of my great grandparents: Elmer and Lillian (Snyder) Greulich, Edwin and Mary (Waage) Wieder, Will and Isabella (Smith) Hocker, and Clyde and Nora (Houdeshell) Hoover.