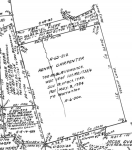 In rewriting the Hacker/Hocker genealogy, I've been trying to identify and make sense of the contemporary Fetter/Fehder/Feather/Vetter/Vehders living in the Warwick and Cocalico township in the late 1700s. There are at least two Henry Fetters that I need to clarify in the source data that I've found.
Almost 100 years ago on March 25th a factory fire in New York claimed 146 lives. The fire led to changes building codes, labors laws, union formations and politics. Now the final six unidentified victims have been identified.
I received an email a while back from a woman who was looking for information on a Jacob Hoover of Maryland and wondered if we were related. The short answer is "Yes," but not as initially thought.
Jacob Hacker was born 28 Sep 1803, probably in Lancaster county, Pennsylvania. He died 26 Jul 1873, probably in Lancaster county, and was buried in Emanuel Lutheran Church cemetery in Brickerville, Warwick township, Lancaster county, Pennsylvania. This is the church that my ancestor Johan Adam Hacker attended. About 1841 Jacob Hacker married Maria Krieg, daughter… read more
Johan "Hans" Adam Hacker (Christoph1, StephenA) was the third child and first son of Christoph and Anna Margaretha (Jock) Hacker. He was baptized on 28 October 1727 in Rußheim, Württemberg, Germany. Adam immigrated to the Pennsylvania colony in 1749 aboard the Ship Ann. Like all émigrés, he denounced his loyalty to the German Sovereigns and… read more
In researching my HOOVER family line, I've always hit a brick wall at my great-great-great-grandfather Christian HOOVER. He seemed to appear from almost from nowhere. Family history regarding Christian and Caroline (Kinnard) Hoover was vague and sometimes contradictory. Here's what the older family members recall about the Hoover family, specifically regarding Christian: Christian was one… read more
I am seeking to prove that the John Hacker, who married the two Musser daughters, was in fact the eldest son of Frederick and Catharina (Fuchs) Hacker. I am also seeking additional information on the children of John and Salome (Musser) Hacker and John and Susanna (Musser) Hacker.