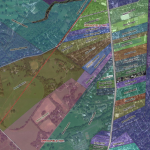 I've been working on the Philadelphia Hocker branch of the family for my book A Hacker/Hocker Family recently. Learning about "Mapping West Philadelphia: Landowners in October 1777″ was a fantastic find!
According to the marriage record I found for my ancestors James Smith and Isabella Aitken, they were married 25 Dec 1840 in Carnwath Parish, Lanarkshire, Scotland.[1] This couple has been very difficult to document. After much struggling, I managed to find them in Whitburn, Linlithgow, Scotland in the 1851 census, but hadn't been able to… read more
I found Elizabeth Shown Mills' Historic Pathways thanks to a post by Randy Seaver on Google+. Browsing her articles, I chose one almost randomly—"The Search for Margaret Ball"—and started reading. I was instantly engrossed. The search for Margaret Ball's origins was quite the mystery, the research enlightening. Of course, I had to go on and… read more
I've been trying to get the Trinity Lutheran Church Records, volumes 1-4, through ILL for some time now with mixed results. So, imagine how pleased I was to find some of the records online in the Internet Archive. The Pennsylvania-German Society published their Proceedings and Addresses in the 1890s. Several volumes included records from Trinity… read more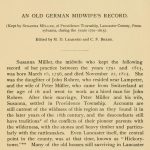 Update (7/4/2011): I've added the possible names of children and their parents where I have information. As you can see there's more to add. If you have information that fits, please send me an email. Thanks Yesterday, I was poking around online trying to find Huber information when I came across the most wonderful article…. read more
I'm accustomed to visiting the websites of state and county archives to learn more about their holdings to determine if I should plan a visit or request information by mail. Sometimes you can find quite a bit more. Such is the case with the York County Archives (Pennsylvania).
Soon everyone on the United States will be able to order LDS microfilm from the comfort of their desk chair!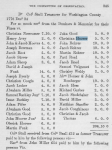 I was recently going through the stacks of materials distributed around my "office" when I came across a document I'd ordered from PERSI—"Proceedings of the Committee of Observation for Elizabeth Township District [Washington County]" from the Maryland Historical Magazine, Volume 13. I had ordered this because copies I had made at the Pennsylvania State Library… read more
The National Archives launched Online Public Access (OPA) on Dec. 27th. What is it and what information does it include?
Recently, I've started a document to record the facts I've been compiling for each Hoover—especially the land transactions—and became frustrated when I couldn't locate any Strasburg Township property for Henry Huber, son of Ulrich Huber, even though other deeds named it as his place of residence. Today, I finally found it!