During genealogical research, it is common to come across terms which you may not understand—either because they are legal terms or because the context doesn't fit your understanding of the word(s). This can create difficulties in interpreting a document and fully understanding its implications for your ancestor and their family. Robert Baird (Bob's Genealogy Filing… read more
Have an ancestor who was born before 1910 or died in Missouri? Check out the "Missouri Birth and Death Records" collection at Missouri Digital Heritage. I found death certificates for several of my Hockers.
Soon everyone on the United States will be able to order LDS microfilm from the comfort of their desk chair!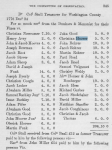 I was recently going through the stacks of materials distributed around my "office" when I came across a document I'd ordered from PERSI—"Proceedings of the Committee of Observation for Elizabeth Township District [Washington County]" from the Maryland Historical Magazine, Volume 13. I had ordered this because copies I had made at the Pennsylvania State Library… read more
In March our thoughts turn to Ireland—and where else would they be with St. Patrick's Day coming up? So, this announcement is rather timely! If you've got ancestors from Donegal, listen up…
FamilySearch. org has added new records for Brazil, England, India, Italy, Nicaragua, Spain, Wales and the United States.
The National Archives launched Online Public Access (OPA) on Dec. 27th. What is it and what information does it include?
I'm always looking for new ways to research my family. Living in New England, I'm a long way away from sources of Pennsylvania information. So, I especially love to find FREE sources of information ONLINE. The Pennsylvania Historical & Museum Commission and State Archives usually have something good. In the past I've used the online… read more