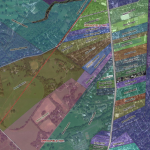 I've been working on the Philadelphia Hocker branch of the family for my book A Hacker/Hocker Family recently. Learning about "Mapping West Philadelphia: Landowners in October 1777″ was a fantastic find!
Taking advantage of Ancestry's free access to census records this weekend. Added a couple generations onto the Philadelphia Hockers.
Today, I found the second reference to a Samuel Hocker associated with my Hacker-Hocker family. Another clue in the mystery of Christopher Hocker (ca 1776-?)!
I just discovered that Maria Margaretha (Hager) Elser was the aunt of Hans Adam Hacker's brother-in-law Lorentz Haushalter. My ancestor Hans Adam traveled to Pennsylvania on the same ship as Heinrich Mock and Johan Peter Elser, also of Rußheim. Heinrich Mock was Margaretha's fiancée and Johan Peter Elser was her son. They all settled in Lancaster County and were members of the Warwick Congregation in Warwick/Elizabeth Township.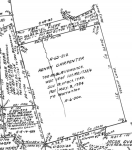 In rewriting the Hacker/Hocker genealogy, I've been trying to identify and make sense of the contemporary Fetter/Fehder/Feather/Vetter/Vehders living in the Warwick and Cocalico township in the late 1700s. There are at least two Henry Fetters that I need to clarify in the source data that I've found.
I'm in the midst of rewriting the Hacker/Hocker family genealogy featuring the descendants of Christoph and Anna Margaretha (Jock) Hacker of Rußheim, Karlsruhe, Baden, Germany and Cocalico Township, Lancaster County, Pennsylvania. And I need your help!
After Johan "Hans" Adam Hacker died circa 1782 and the settling of his estate, several of his sons—Johannes, Christopher, Johan Adam Jr., Martin, and perhaps for a time, Johan George—left Lancaster County and came to Harrisburg. The earliest record of them in the city is a mention of the Adam Hocker tavern in the 1787… read more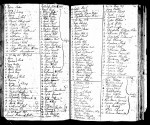 Recently, I've been updating and revising my great uncle William Wingeard's A German-American Hacker-Hocker Genealogy. In the first edition, Bill did not include any information on Johan "Hans" Adam Hacker's son Johan George (1766-1846). Fortunately, I have found some new information on him.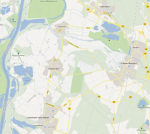 I think I answered a question that's been bothering me for a while yesterday. But I didn't do it by researching my ancestors. My ancestor Johan "Hans" Adam Hacker emigrated from Germany to Pennsylvania aboard the ship Ann, landing in Philadelphia on 28 Sep 1749. He was the first to immigrate. His brother Johan Georg… read more
Jacob Hacker was born 28 Sep 1803, probably in Lancaster county, Pennsylvania. He died 26 Jul 1873, probably in Lancaster county, and was buried in Emanuel Lutheran Church cemetery in Brickerville, Warwick township, Lancaster county, Pennsylvania. This is the church that my ancestor Johan Adam Hacker attended. About 1841 Jacob Hacker married Maria Krieg, daughter… read more