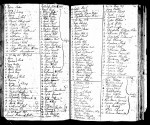 Recently, I've been updating and revising my great uncle William Wingeard's A German-American Hacker-Hocker Genealogy. In the first edition, Bill did not include any information on Johan "Hans" Adam Hacker's son Johan George (1766-1846). Fortunately, I have found some new information on him.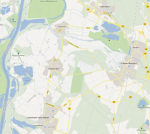 I think I answered a question that's been bothering me for a while yesterday. But I didn't do it by researching my ancestors. My ancestor Johan "Hans" Adam Hacker emigrated from Germany to Pennsylvania aboard the ship Ann, landing in Philadelphia on 28 Sep 1749. He was the first to immigrate. His brother Johan Georg… read more
Jacob Hacker was born 28 Sep 1803, probably in Lancaster county, Pennsylvania. He died 26 Jul 1873, probably in Lancaster county, and was buried in Emanuel Lutheran Church cemetery in Brickerville, Warwick township, Lancaster county, Pennsylvania. This is the church that my ancestor Johan Adam Hacker attended. About 1841 Jacob Hacker married Maria Krieg, daughter… read more
Johan "Hans" Adam Hacker (Christoph1, StephenA) was the third child and first son of Christoph and Anna Margaretha (Jock) Hacker. He was baptized on 28 October 1727 in Rußheim, Württemberg, Germany. Adam immigrated to the Pennsylvania colony in 1749 aboard the Ship Ann. Like all émigrés, he denounced his loyalty to the German Sovereigns and… read more
I am seeking to prove that the John Hacker, who married the two Musser daughters, was in fact the eldest son of Frederick and Catharina (Fuchs) Hacker. I am also seeking additional information on the children of John and Salome (Musser) Hacker and John and Susanna (Musser) Hacker.