This is a transcription of the John Jacob Hoober's patent for 210 acres situate on the southside of Pequea Creek in present-day Providence Township. Jacob Hoober received a warrant for the tract 24 Jan 1733. It was surveyed to him on 28 Jan 1733.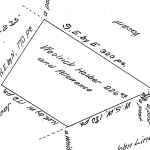 Last week's article for the "Along the Pequea" series, traced the land transactions of Hans Line's property. This week, we'll follow the transactions of his neighbor, Ulrich Huber.
Starting off the "Along the Pequea" series is an article outlining the transfer of ownership for Hans Line's original patent tract on a branch of Pequea Creek in Conestoga (now Pequea) Township, Lancaster County, Pennsylvania from the patent date of 1735 through transactions by two of his great grandsons in the 1810s.