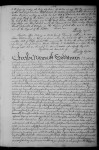 In trying to trace my Deisher ancestors, I followed a path to Jacob Teysher (aka Deischer) of Maxatawny Township, Berks County, Pennsylvania. He wrote his last will and testament on 17 December 1803 and it was proven on 6 January 1804. Here is a transcript.
I found a deed today that I believe relates to Henry Hoover of Strasburg Township who died before 18 Dec 1833, leaving heirs in Franklin County, Pennsylvania. According to one deed, Henry had eight brothers and sisters. I was able to determine four of them, but I am still looking for the others. I may have found three of them.
Johan Adam Hocker, son of Johan George and Anna Margaretha (Weidman) Hacker, died suddenly on 4 Feb 1847 at Slate River Mills, Buckingam County, Virginia. How do I know this? Apparently, after his death there was a disagreement in the family over which will was the correct will to be entered into probate.
Henry Landis of Derry Township wrote his last will and testament on 26 April 1785 and it was proven on 29 November 1785. It was written in German. I found this translation in Dauphin County Will Book A, page 34. The translation from the German of the last Will & Testament of Henry Lands In… read more
I've been using the "York County, Pennsylvania Orphans Court Records index, 1749-1840" in researching the families associated with Ulrich Hoover of Adams and York counties. Since I've had to go back several times, I've been bookmarking the start of surname starting letter sections as I use them. Randy Seaver suggested in one of his Follow-up… read more
Here's part two of Thomas Kinnard's estate records. (You can read part one here.) In pursuance of a writ of Partition or valuation on the Real Estate of Thomas Kinnard late of Burrel [sic] Township Deceased by the Orphan's Court of the County of Armstrong granted and to R M Kiskaden Esq High Sheriff of… read more