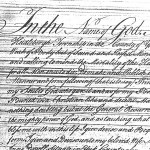 Christian Hoover of Heidelberg Township, York County wrote his last will & testament on 15 Feb 1771; it was proven on 21 Mar 1771. His wife Mary was his executor. This is a transcription of his will.
Lawrence HOUSEHOLDER's will, dated 19 Jul 1800, probated 12 Feb 1805, filed in Lancaster county, Pennsylvania — Will Book I, Volumn 1, p.202 — bequeaths the following: In the name of God! I, Lawrence HOUSEHOLDER, of Cocalico township, Lancaster county, Pennsylvania, yeoman, being old and weak in body, but of sound mind, the mortality of… read more
In May of 1780, Jacob Waller sold a tract of land—part of a 1769 survey on Redstone Creek—now part of Union township, Fayette county to Andrew Hoover, Jr. This land was then signed over to Jacob Pindle/Pindell by Andrew Hoover in August of 1780. Sixteen years later, Jacob Pindell signed over this land to Jonathan Rowland and wife Susannah "in trust for the heirs of" Conrad Herbaugh on May 3rd, 1796.
In 1786, Henry HOOVER of Fayette County, Pennsylvania finalized a deed for two tracts of land in Washington County, Maryland between his father Andrew HOOVER's estate and Jacob SHANK of Washington County, Maryland.[1]  These tracts were purchased by Andrew in 1779 from Francis Deahnis and William Deahnis Jr. of Montgomery County, Maryland as part of… read more
This is a transcription of the last will and testament of Jacob Hacker (1803—1873) of Elizabeth township, Lancaster county, Pennsylvania. I'm am seeking to determine whether or not this Jacob Hocker/Hacker belongs to my Lancaster Hackers, and if so, where. He's of an age to possibly be the son of George3 and Christina (MILLER) HACKER… read more