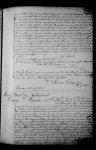 George Hocker of Swatara Township, Dauphin County, Pennsylvania, wrote his last will and testament on 13 September 1873 and it was proven one month later on 14 November. Here is a transcript of that will.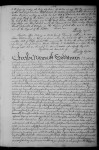 In trying to trace my Deisher ancestors, I followed a path to Jacob Teysher (aka Deischer) of Maxatawny Township, Berks County, Pennsylvania. He wrote his last will and testament on 17 December 1803 and it was proven on 6 January 1804. Here is a transcript.
Henry Landis of Derry Township wrote his last will and testament on 26 April 1785 and it was proven on 29 November 1785. It was written in German. I found this translation in Dauphin County Will Book A, page 34. The translation from the German of the last Will & Testament of Henry Lands In… read more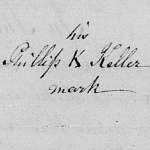 In researching Ulrich Huber of Adams and York counties, I've been looking for Philip Keller, husband of Ulrich's daughter Magdalena. All I really knew about the couple was that Magdalena had died prior to her father's death and that she and Philip had children: Eve, Catharine, Elisabeth and John.[1] Today, I came across a possible… read more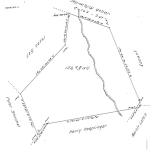 A little while back I did a series of posts about Christian Hoover of Heidelberg Township, York County. Yesterday while researching the estate of Henry Küny (?1740-1781), presumably the husband of Christian's sister Ann, I came up with a new theory regarding his relationship to Christian.
Jacob Hoover of Woodberry Township, Bedford County, Pennsylvania wrote his last will & testament on 10 Nov 1800. It was proved 2 Mar 1801.
Lawrence HOUSEHOLDER's will, dated 19 Jul 1800, probated 12 Feb 1805, filed in Lancaster county, Pennsylvania — Will Book I, Volumn 1, p.202 — bequeaths the following: In the name of God! I, Lawrence HOUSEHOLDER, of Cocalico township, Lancaster county, Pennsylvania, yeoman, being old and weak in body, but of sound mind, the mortality of… read more
This is a transcription of the last will and testament of Jacob Hacker (1803—1873) of Elizabeth township, Lancaster county, Pennsylvania. I'm am seeking to determine whether or not this Jacob Hocker/Hacker belongs to my Lancaster Hackers, and if so, where. He's of an age to possibly be the son of George3 and Christina (MILLER) HACKER… read more