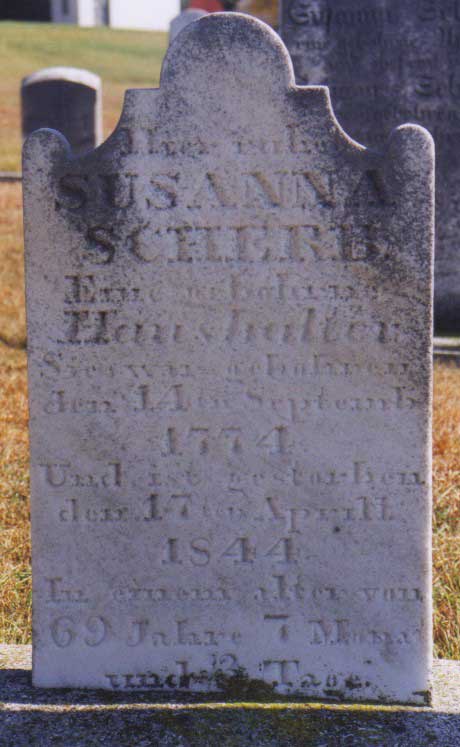 Susanna (HAUSHALTER) SCHERB, was the daughter of Lorentz and Anna Margaretha (HACKER) HAUSHALTER. She was born 14 Sep 1774 in Cocalico township, Lancaster county, Pennsylvania and died 17 Apr 1844 in Lancaster county, Pennsylvania. She was buried in the Emanuel Lutheran Church Cemetery in Brickerville, Pennsylvania.
She was the wife of George SCHERB (1788—1850), who was also buried in the Emanuel Lutheran Church Cemetery, along with his second wife Hannah MILLER (1795—1862). George and Susanna may have had a daughter Susanna who married Daniel Kern in 1820 in York county, Pennsylvania.
Cite This Page:
Kris Hocker, "Tombstone: Susanna SCHERB (1774—1844)," /genealogy the genealogy & family research site of Kris Hocker, modified 25 Dec 2010 (http://www.krishocker.com/tombstone-susanna-scherb-1774%e2%80%941844/ : accessed 1 Sep 2015).
Content copyright © 2010 Kris Hocker. Please do not copy without prior permission, attribution, and link back to this page.