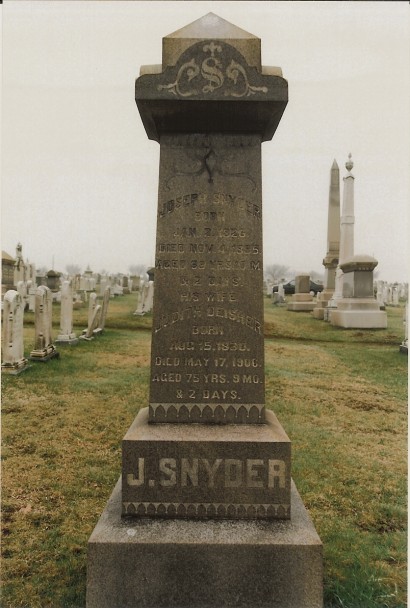 A gravestone for Joseph Snyder and his wife Judith Deisher of Montgomery County, Pennsylvania. Joseph was born 2 Jan 1826 in either Germany or Pennsylvania and died 4 Nov 1895 in Montgomery County, Pennsylvania. He married circa 1855 Judith Deisher, daughter of Peter Deisher and Maria Trump. She was born 15 Aug 1830 in Pennsylvania and died 17 May 1906 in Upper Hanover Township, Montgomery County, Pennsylvania. The couple is buried in the Goshenhoppen Cemetery in East Greenville, Pennsylvania.
The couple had children:
Irwin Oscar Snyder

Mary Jane Snyder

Henry D. Snyder

Clement D. Snyder

Mahlon Snyder

Amandus D. Snyder

Mary Snyder

Ida D. Snyder
Cite This Page:
Kris Hocker, "Tombstone Tuesday: Joseph and Judith (Deisher) Snyder," /genealogy the genealogy & family research site of Kris Hocker, modified 21 Jun 2011 (http://www.krishocker.com/tombstone-tuesday-joseph-and-judith-deisher-snyder/ : accessed 3 Sep 2015).
Content copyright © 2011 Kris Hocker. Please do not copy without prior permission, attribution, and link back to this page.