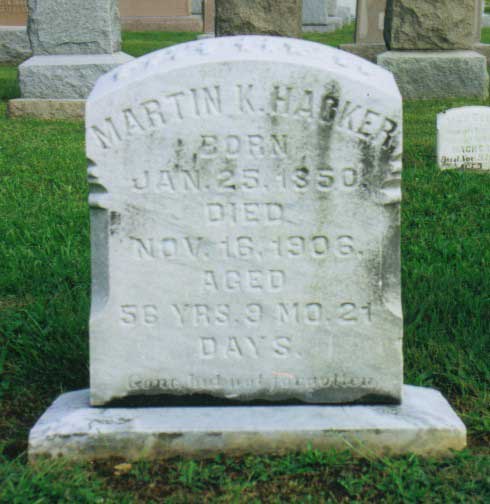 Martin K HACKER, son of Jacob HACKER and Maria "Polly" KRIEG, was born 25 Jan 1850 and died 16 Nov 1906. He was buried in the Emanuel Lutheran Church Cemetery in Brickerville, Pennsylvania.
He was married twice, first to Annie Kissinger who died in 1894 and was buried in the Emanuel Lutheran Church Cemetery, and second to Sadie Bates on 31 Mar 1898 in Reading, Berks county, Pennsylvania.
I am still trying to determine the relationship between this family and my HACKERs. I believe Martin's father Jacob could possibly be a child of George and Christina (MILLER) HACKER, but at this point it is ONLY a suspicion. I have absolutely no evidence of this relationship.
Cite This Page:
Kris Hocker, "Tombstone: Martin K HACKER (1850—1906)," /genealogy the genealogy & family research site of Kris Hocker, modified 25 Dec 2010 (http://www.krishocker.com/tombstone-tuesday-martin-k-hacker-1850%e2%80%941906/ : accessed 30 Aug 2015).
Content copyright © 2010 Kris Hocker. Please do not copy without prior permission, attribution, and link back to this page.