William Bonnington, my four times great grandfather, was born about 1816 most likely in Bowden, Roxburghshire, Scotland.1 He was the son of Robert and Agnes (Inglis) Bonnington.2 He died 11 June 1885 in his brother's house in Bowden.3
About 1838, he married Margaret Purves4 (or Fairborn).5 She was born about 1821 and died between 1844 and 1847. William married for the second time on 9 July 1847 in Melrose, Scotland to Mary Reavely.6 She was born about 1825 in Galashiels, Selkirkshire, daughter of Mark and Margareth (Paterson) Reavely, and died 21 April 1855 in Newington and Grange, Edinburgh.7 After her death, William married for the third time to Elizabeth Thomson on 16 June 1857 in St. Boswell's Parish, Roxburghshire.8 Elizabeth was born about 1803, daughter of James and Janet (Goodfellow) Thomson, and died 15 November 1880 in the district of Bathgate.9
William worked as a joiner, a carpenter, and apparently moved with his work. In 1841, he can be found in the census for Galashiels, Selkirkshire.10 By 1851, he and family were in Ladhope, Melrose, Roxburghshire.11 Ten years later, the family was in Colinton, Edinburgh, Midlothian.12 He and third wife Elizabeth, as well as his daughter Isabella, were in Ilkley, Yorkshire, England in 1871.13 By 1881, William was living alone with a domestic in Bathgate, Linlithgow.14
William and Margaret (Purves) Bonnington had children:
Anne Bonnington was born 5 May 1839 in Galashiels and likely died before 1851.
Robert Bonnington was born 30 May 1841 in Galashiels and may have died prior to 1851.
Peter Purvis Bonnington was born about 1844 and died 16 September 1891 of Phthisis Pulmonalis, a.k.a. Tuberculosis, in Lasswade Parish, Edinburgh. He married Elizabeth Buchanan on 17 June 1864 in Colinton.
William and Mary (Reavely) Bonnington had children:
Margaret Bonnington was born about 1849 in Galashiels and died of Typhoid Fever on 23 December 1883 in Selkirk, Selkirkshire. She was a lady's maid.
Agnes Bonnington was born about 1850 in Galashiels and died sometime before 1855.
Isabella Bonnington was born 16 February 1855 in Edinburgh, Midlothian. She was living with her father and step-mother in Ilkley in 1871, but no more is known about her after that time.
---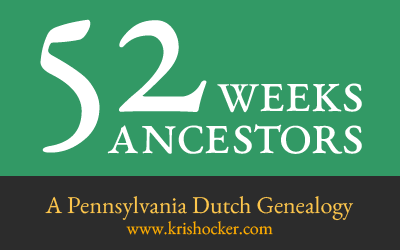 This post is part of a blogging challenge entitled 52 Ancestors in 52 Weeks, created by Amy Crow of No Story Too Small in 2014. Participants were to write about one ancestor every week. I'm revisiting this challenge for 2017. This is my thirteenth 52 Ancestors post, and a make-up post for week twelve.