The earliest established settlement in Lancaster County occurred in the fall of 1710 while it was still a part of Chester County. A small group of Mennonites made a deal for land with William Penn. He wrote to the Ambassador in the Netherlands in April 1710 telling him of a party coming to Holland in order to go to Pennsylvania.1
We know their names because this group wrote a letter to the Mennonite leaders in Amsterdam dated 27 June 1710 to thank them for their assistance. They were on their way to Pennsylvania, expecting to sail within a few days to Gravesend, England and from there to America.2 The letter was signed by Martin Oberholtzer, Martin Kendig, Christian Herr, Jacob Müller, Martin Meili, and Hans Herr. Their ship, the Maria Hope, arrived in Philadelphia 23 September 1710.
On 8 October 1710 land warrants were issued to Martin Kundig, Martin Meily, Christian Herr, John Herr, Wendell Bowman, John Bundely, Christopher Franciscus, and Jacob Müller.3 Martin Oberholtzer, an original member of the group, did not participate in the land purchase. Surveyor James Taylor was ordered on 10 October 1710 to survey 10,000 acres for the Colony of "Swissers lately arrived in this Province" at Pequea.4 The area they settled includes present day Willow Street, stretching across West Lampeter Township over Pequea Creek and into Strasburg Township and Strasburg village. The purchase was divided amongst these men on 12 April 1711.5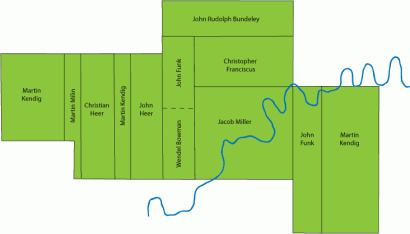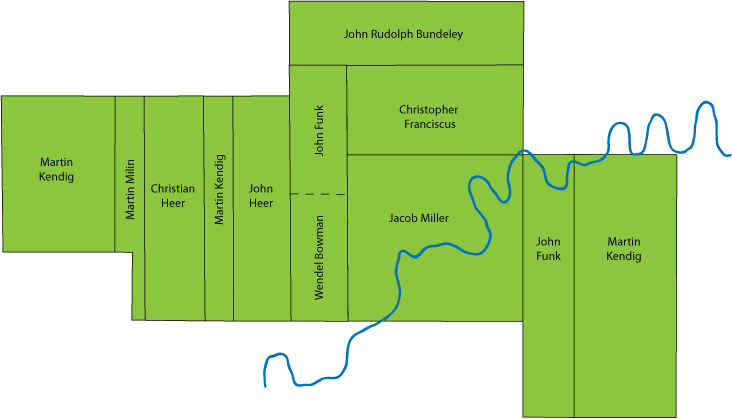 About 1715 or 1716, Martin Kendig returned to Europe to convince other Mennonite families to come to Pennsylvania. On 22 November 1717, Martin Kendig & Co. (John Herr) were issued a warrant for 5,000 acres in Chester County (now part of Lancaster County).6 I found the following in the Copied Survey Books:
Pensilvania SS
(Seal) By the Commissioners of Property
At the Requests of Martin Kundigg and Hans Heer both of the Township of Strasburg in this Province that we would Grant them to take up Several Tracts among the late Surveys made on Conestoga and Paque Creek the quantity of ffive Thousand Acres of Land for which they agree to pay to the Proprietrs use ffive hundred pounds Mony of the said Province for the whole or in Proportion should there be Returnd upon the Survey thereof more or less and the Yearly quitrent of one Shilling Sterling for every hundred Acres These are to Authorize and Require thee to Survey or cause to be Survey'd unto the said Martin Kundigg and Hans Herr among the said late surveys according to the Method of Townships appointed in several Regular Tracts the quantity of ffive Thousand Acres of Land that hath not been already Survey'd nor appropriated nor is Seated by ye Indians and make Returns thereof into the Secretarys Office which surveys by thee mad by Vertue hereof in case the said Martin & Hans fulfill the above agreement by paying down the said sum of Mony upon the Returns of the said surveyes shall be Valid otherwise the same is to be Void as if it had never been made of this Warrant ever granted Given under our hands and Seal of the Province at Philada the 22d day of 9br [November] Anno Din 1717

Richard Hill

Isaac Norris

James Logan

To Jacob Taylor Surveyr General

In Testimony that the above is a copy of the original remaining on file in the Department of Internal Affairs of Pennsylvania made conformably to an Act of Assembly approved the 16th day of February 1833, I have hereunto set my Hand and caused the Seal of said Department to be affixed at Harrisburg, this Thirtieth day of March 1909

Henry Hauck

Secretary of Internal Affairs7
The Chester County Old Rights Index notes a number of surveys associated with this warrant. They include:
I don't know if these add up to 5,000 acres—some of the surveys are duplicates or overlap previous surveys; some include land from separate warrants. But they should be a good representation of the Kendig & Herr 5,000 acre warrant as divided amongst Lancaster settlers after November 1717.
If you're searching for information on early immigrant ancestors who settled in Lancaster County, you can find land information at the website of the Pennsylvania State Archives. The warrant registers for Lancaster County will list warrants issued starting in 1733. For earlier records, try the Old Rights Registers for Philadelphia, Bucks and Chester counties—Chester is the best place to start for pre-1729 Lancaster records.
If you know who the land was patented to, but not who it was warranted to, try the Patent Indexes. That will give you the warrantee and warrant date. The warrantee township maps are also a good place to look if you'd like to see where your ancestor's property was located. The files are listed by the modern townships, so you'll need to know the relationship between the historical townships and the modern ones. If you don't, try this map at the Lancaster Historical Society's website.
Lancaster deeds for this period are also available online. You can read more on how to use the online reader and where to find images from the Grantors index. Unfortunately, the Grantees index not online, so you may have to get creative to find what you're looking for.
Have you found a Lancaster County ancestor in online records? What did you learn about them?