I've heard family stories about an ancestor who fought on both sides during the Civil War, but I didn't really believe it. Two brothers fighting on opposite sides? Yeah, okay. But one man fighting for both sides over the course of the war? Seemed a little far-fetched.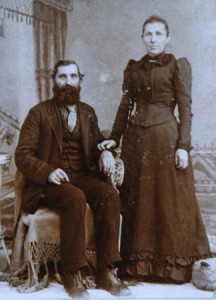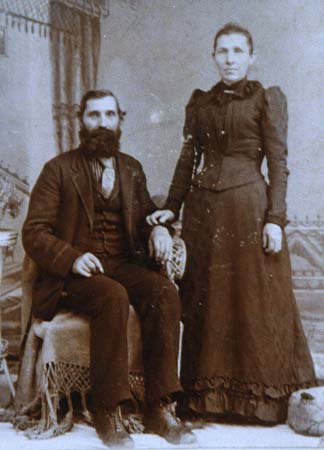 Wars are always justified as necessary to stand-up for our principals or our rights, or to fight evil, or protect the mother land. But it seems to me that when it came to joining up during the Civil War to fight for one side or the other, the reasoning was black or white. You either believed in the Rebel cause or you believed in the Union and the destruction of slavery. So, it doesn't seem probable that one person would enlist in both armies—by choice—between 1861 and 1865.
And, yet, I think that's exactly what Benjamin Houdeshell did.
According to Benjamin's death certificate, he was born 13 March 1842 in Maryland and died 20 March 1926 in Rush Township, Centre County, Pennsylvania. He was 84 years old. His full name was James Benjamin Houdeshell.1 His obituary read:
Recent Deaths: Houdeshell – Benjamin Houdeshell, Civil War Veteran, father of John Houdeshell, of Curtin, and well known resident of the Philipsburg community, passed away at the home of his daughter, Mrs. Thomas Passell, Saturday morning [20 March]. He had been in failing health for the past four years, death being due to infirmities of age. The funeral service was held Tuesday afternoon; internment in the Philipsburg Cemetery. Deceased, is a son of Adam and Mary Houdeshell, was born at Westmoreland, Virginia, on March 13, 1842, making his age 84 years and 7 days. He enlisted as a Private in Company I, Thirteenth Regiment of Maryland Infantry, February 24, 1865, and was mustered out at the close of the War. He was a woodsman and farmer, and for twenty years or longer has been residing in the Philipsburg region. The wife of the deceased was Pheobe Mayes, who died five years ago last August. Twelve children were born to the marriage. The surviving sons and daughters are: John, of Curtin; Mrs. Jacob Webb, of Windber; George, of Surveyor Run; Frank and Jacob, of Kato; Mrs. Thomas Passell, of North Philipsburg; Mrs. Daniel DeHaas, of Julian, and Mrs. Nora Blake and Mrs. Ernest Vinton, of Philipsburg.2
The military pension index card for "Benjamin Houdeshell" lists his death date as 20 March 1926 and place of death as Phillipsburg, Pennsylvania.3 So, it matches my 3x great grandfather's death certificate. It also states that he served as a private in the 13th Regiment, Company I of the Maryland Infantry, mustering in on 24 February 1865 and out on 29 May 1865.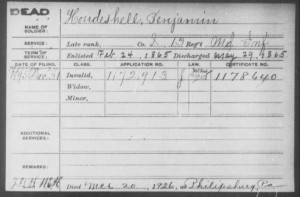 Fortunately, additional records for Maryland Civil War Soldiers are online at Fold3.com. Benjamin's record for Company I, 13th Regiment includes his volunteer enlistment. He enlisted at Frederick, Maryland on 24 February 1865, stating that he was 19 years old, born in Hardy County, Virginia, and a laborer.4 The record also states that he was 5′ 6″ tall and had grey eyes, light hair and a fair complexion.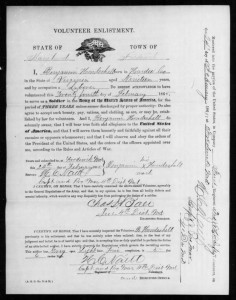 Neither the description nor his age on this record matches other information I have regarding Benjamin. Born in 1842, he would have been 22 years old, nearly 23, in February 1865. And the one photo I have of him shows him with dark hair. However, based on the information in his obituary and pension index card, this is the record of enlistment for my great great great grandfather.
So, there's his Union service. What about his Confederate service?
The enlistment record states that he was born in Hardy County, Virginia. Census records for 1860 show Benjamin Houdeshell, aged 18, living in the household of Adam Howyshell (his father per his obituary) in District No. 1, Hardy County.5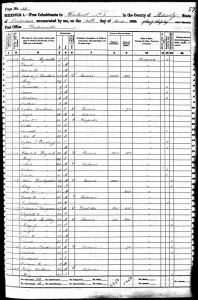 The household included:
Adam Howdyshell, aged 69, Farmer, born in Virginia
Mary ", aged 64, born Virginia
John Wm ", aged 28, born Virginia
George W. ", aged 21, born Virginia
Benjamin ", aged 18, born Virginia
On the next page are the households of:6
Adam Howdyshell Jr., age 40, Laborer, born in Virginia
Mary ", age 42, born in Virginia
Daniel ", age 13, born in Virginia
Sarah C. " , age 11, born in Virginia
John W. ", age 8, born in Virginia
William E. ", age 5, born in Virginia
Daniel Howdyshell, age 37, Laborer, born in Virginia
Jane ", age 24, born in Virginia
Elizabeth ", age 7, born in Virginia
Benjamin ", aged 5, born in Virginia
Joseph ", aged 3, born in Virginia
Virginia ", aged 1, born in Virginia
Isaac Howdyshell, aged 23, Laborer, born in Virginia
Dorothy ", aged 58, born in Virginia
Adam's household in 1850 included:7
Adam Howdyshell, aged 63, Farmer, born Virginia
Mary ", aged 49, born Virginia
John W., aged 18, Laborer, born Virginia
Isaac, aged 14, born Virginia
Westfall, aged 10, born Virginia
Benjamin, aged 7, born Virginia
A search of the Confederate Civil War Soldiers on Fold3.com turns up records for the 14th Regiment, Virginia Militia for Adam Howdyshell Jr., J. Benjamin Howdyshell and Westfall Howdyshell.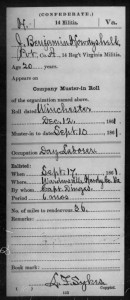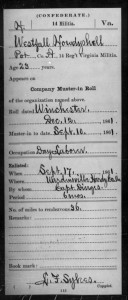 All three men enlisted on 17 September 1861 in Wardensville, Hardy County, Virginia. The names, approximate ages, and place of enlistment seems to indicate that these three men may very well have been the sons of Adam Howdyshell of Hardy County. They enlisted for the period of six months and it's entirely possible that is all they served.
If, in fact, they are Adam's sons (and it seems likely), then my great great grandfather, James Benjamin Houdeshell, served in both the Confederate and Union armies during the Civil War.
Why would he do that?
First, I have to think that he did not have any great convictions regarding slavery. Based on the 1860 census, the Houdeshells were not wealthy land-owners and, as far as I can tell, not slave-owners either. Adam's real estate was worth $1,000 and he did not list any personal estate. I searched the slave schedules for Hardy County in 1860. It did not include the 1st district. Whether this was because there were no slave-owners there or it has been lost, I do not know. However, the county supposedly has a "rich African American history, with many free African Americans living there before the Civil War."8
Additionally, he may have been a member of the militia prior to the war, serving as a home guard. The militia was ordered into service with the Confederate Army on 10 September 1861 by the governor of Virginia. The 14th "played a roll in Jackson's January 1862 Romney campaign after which the 14th was assigned to the 'region of their homes'."9 That may be how he came to serve in the Confederate forces, rather than a voluntary enlistment.
On 6 November 1864, Benjamin married Phoebe Mayes of Snow Shoe Township, Centre County, Pennsylvania.10 That's nearly four months before he enlisted in the Maryland Infantry on 24 February 1865. It's possible he enlisted because he needed the money to support his family. I don't imagine that there were that many jobs available during the winter in the mountains of Centre County. The government bounty—for which the record indicates he was eligible—might have been tempting to a young man in his position.
I don't know what happened to Benjamin between his enlistment in September 1861 in the Confederate Army and his marriage in November 1864 to a Pennsylvanian girl. So, it's hard to say with any certainty why he enlisted twice—in two opposing armies. But I bet it's an interesting story.
---
This post is part of an on-going blogging challenge entitled 52 Ancestors in 52 Weeks, created by Amy Crow of No Story Too Small. Participants must write about one ancestor every week. This is my second post for 52 Ancestors and is part of week three.