In Print
This book includes extractions of marriage and death notices from the Harrisburg Chronicle published between 1820 and 1834. It is available in print and digital download. It includes an every name index.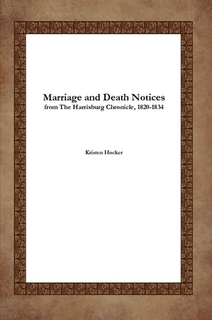 This book includes extractions of marriage and death notices from multiple Harrisburg, Pennsylvania area newspapers published between 1835 and 1845. It is published by Closson Press.
In 1830, there were eleven newspapers in print in Harrisburg. This book contains marriage and death notices, including some obituaries, as reported in four of those Harrisburg area newspapers from 1835 through 1845. Issues used as source material in compiling this volume include: the Democratic State Journal, the Keystone, the State Capital Gazette, and the Democratic Union. Other newspapers from within Pennsylvania and other states were often quoted, as newspapers passed information from one area to another. More than marriage and death notices. Every name index.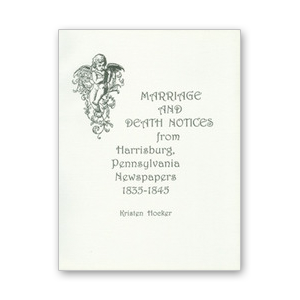 Land was wealth to our ancestors. As a record of the transfer of land, a deed can be a genealogical goldmine to the family historian. Lancaster County—known as America's Garden Spot—was one of the earliest settled areas of Pennsylvania. Digital copies of county deeds from 1729 through 1986 are available online through the Recorder of Deeds. However, only those after 1981 are indexed.
This book provides a full name index to buyer and seller for deed books A through D, covering the period 1729 through 1760. Each listing includes the names of grantor and grantee, the book, the date the deed was written, the date it was recorded, and both page number and image number for easy access to the correct online file.
---
Miscellaneous
Pennsylvania Warrantee Map Indexes
The warrantee township maps are a useful tool in researching your family history and provide an excellent means of visualizing the location of a specific piece of property within the borders of a specific township.
However, when you want to quickly determine if a specific name can be found on the map, it can difficult to do. Frustrated by having to search the map for each name I wanted to locate, I decided to create an index for each township map that I use on a regular basis.
---
In the Works
This book covers the descendants of Christoph and Anna Margaretha (Jock) Hacker of Rußheim, Baden-Durlach, Germany and Cocalico Township, Lancaster County, Pennsylvania through their four children: Anna Christina (Hacker) Lang, Johan Adam Hacker, Anna Margaretha (Hacker) Haushalter, all of Lancaster County and Johan George Hacker of Erdenheim, Whitemarsh Township, Montgomery County, Pennsylvania.
The book is written to adhere to accepted genealogy writing practices, following the Revised Register numbering system. It also includes new family research—including a number revisions to Wingeard's conclusions—and extensive footnotes. If you're a member of the Hacker/Hocker family, you won't want to miss it.
If you would like to receive announcements about this book, please sign-up for the Hacker-Hocker Genealogy mailing list.
The Huber-Hoover Families of Lancaster County
This is a compilation of Huber/Hoober/Hoover data from Lancaster County in the 18th and early 19th centuries that I've collected from various sources, including Hoover deed extractions from Lancaster County deed books from 1729 through 1800. (This is a work in progress.)