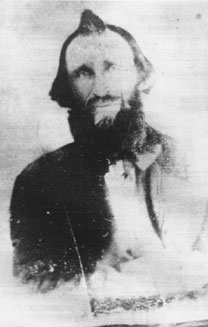 Christian Hoover was born circa 1825 and died 1 Oct 1887 in Covington Township, Clearfield County, Pennsylvania. He was quite likely the son of Philip and Hannah (Thomas) Hoover of Plum Creek Township, Armstrong County, Pennsylvania. He married twice, first to Caroline Kinnard, daughter of Thomas and Maria (Fisher) Kinnard, and second to Mary Ann Conaway, daughter of Charles J. and Christina (___) Conaway.
Photo courtesy of Beverly (Rice) Christensen
Cite This Page:
Kris Hocker, "Photo: Christian Hoover," /genealogy the genealogy & family research site of Kris Hocker, modified 4 Jan 2010 (http://www.krishocker.com/christian-hoover/ : accessed 1 Aug 2015).
Content copyright © 2010 Kris Hocker. Please do not copy without prior permission, attribution, and link back to this page.