We've all heard how diseases can now be predicted by blood tests that search our DNA for specific markers, thus proving that a lot of the most common ailments run through our family lines. Tracing your family's medical history for illnesses that have affected your parents, grandparents and other relatives can tell you something about the possibilities for your future health. Even the Surgeon General has a campaign—the Family History Initiative—to encourage Americans to learn all they can about their family health history.1
So, how can you go about it? The best way to start is simply to ask family members. Some information may be kept private, but folks will usually talk about the most common illnesses—heart disease, high blood pressure, cancer, and diabetes—or the medications they or family members are taking. Try to get information on family members as far back as you can. Write this information down to share it with your doctor.
Where else can you get health information, especially for relatives your family never knew? Death certificates.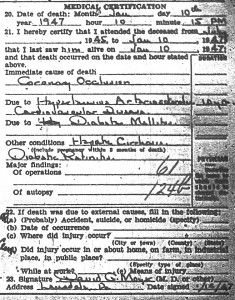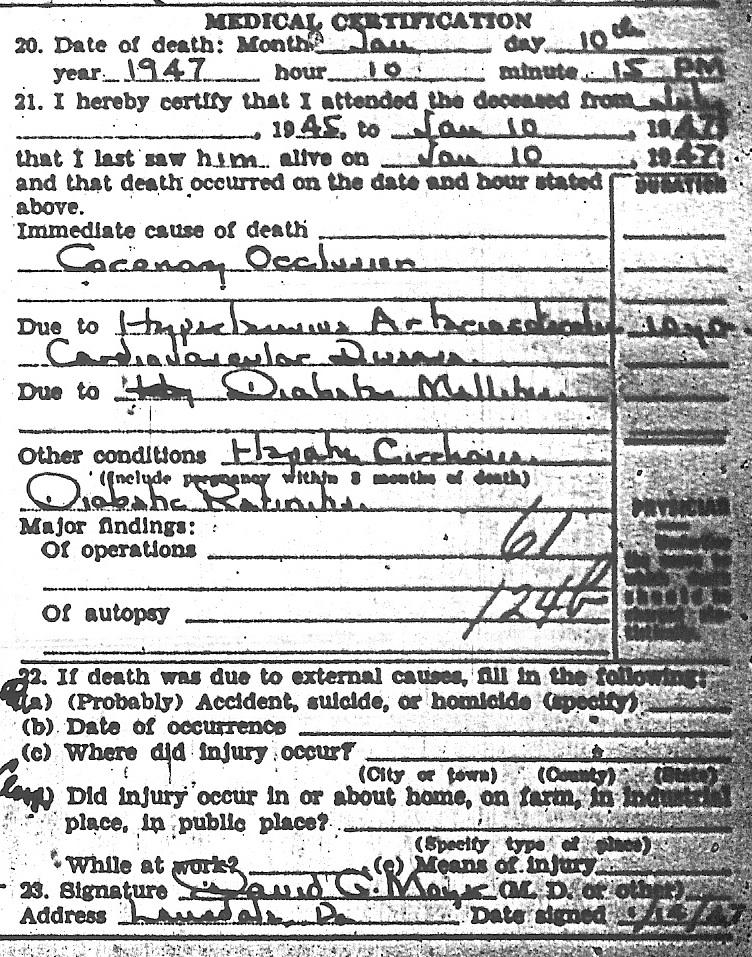 We all know death certificates can be helpful in identifying the names of a previous generation—the parents of the deceased. But these documents also provide information on the cause of death and contributing factors. While the cause of death is important, the contributing factors may actually tell you more about the state of your relative's health.
For instance, the death certificate of my ancestor Elmer Greulich lists his cause of death as a "coronary occlusion."2 This is a blockage of a coronary artery, which may cause a heart attack. Fairly common. The contributory causes include hypertensive arteriosclerosis and cardiovascular disease, present for 10 years. Not a big surprise given his cause of death.
However, they also include "diabetes mellitus." This is a major piece of family health information—especially since cardiovascular disease can be caused by diabetes. Knowing that diabetes is present in your family is an important piece of information to share with your doctor. Untreated it can cause all types of nasty damage to your body and lead, ultimately, to death. Given Elmer's age at death—66—it is more likely that he had type-2 diabetes. Type-1 diabetes left untreated would have probably killed him much younger.
I've also learned that some scientists believe that if your mother has type-2 diabetes, you're more likely to get the disease.3 Elmer's mother died of gangrene of the foot.4 Diabetes can cause reduced blood flow or lack of circulation, leading to "dry gangrene". 5 At this point, I'll probably never know for sure if she had diabetes, but the possibility is there. It's certainly worth learning the cause of death for her other children, or possibly her siblings.
Obituaries can also provide information regarding a relative's health. Elmer's obituary states that he was "partially blind the last four years and in ill health for several years." So, it is likely that his death was the result of diabetes as changes in vision and blindness can be long-term effects of the disease.6
Where have you found family health history information?