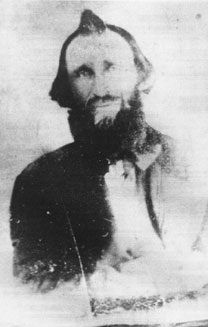 Christian L. Hoover was born sometime between 1820 and 1826 in Pennsylvania.1 His son, Simon's death certificate is more specific. It states that Christian was born in Armstrong county, Pennsylvania.2 It is likely that Christian was the son of Philip and Hannah (Thomas) Hoover of Plumcreek township, Armstrong county, Pennsylvania.3 Christian died in Covington township, Clearfield county, Pennsylvania on 1 Oct 1887; he was 67.4 According to family sources he was probably buried in Oak Hill or Old Oak Hill (also known as Bridgen's) cemetery, Karthaus township, Clearfield county, Pennsylvania.
Sometime around 1852-1854 Christian first married Caroline Kinnard, daughter of Thomas Kinnard (ca 1798 — bef 4 May 1857) and Maria Fisher (ca 1808 — bef 14 Sep 1865), probably in Armstrong county, Pennsylvania. Caroline was born in 1830-1831 in Armstrong county, Pennsylvania.5 She died in Covington township, Clearfield county, Pennsylvania on 11 Feb 1877; she was 53.6 Family information provides multiple burial locations for Caroline. According to one source, she was buried on the Hoover farm, Covington township, Clearfield county, Pennsylvania because the weather was so bad at the time of her death that the family could not get her to the cemetery. Another family source states the Caroline was buried with Christian in either the Oak Hill or Old Oak Hill cemetery.
Christian and Caroline had the following children:
Reuben Hart Hoover

(1853—1900) married Emma Clara Coleburn (1845—1912), daughter of Richard and Elizabeth (___) Coleburn

Samuel Thomas Hoover

(1857—1930) married Victoria Walker (1858—1938), daughter of Jacob C. and Mary (Eckley) Walker

Simon Edward Hoover

(1864—1933) married Ida Christina Watson (ca 1867—1940), daughter of Shemei and Mildred (East) Watson

George I./J. Hoover

(1865—1930) married Anna Meade (1881—aft 1930)
I have had some difficulty documenting this couple. Census information on this couple is limited. According to the census for Jefferson county, Pennsylvania in 1860, Caroline, Reuben and Samuel were living with a "Catherine" Hoover in Henderson township.7 To date, this is the only census information I've been able to find on either Christian or Caroline after their marriage.
It is, however, consistent with other research that places the family in Jefferson county in the late 1850s and 1860s. Both Simon (born 1864) and George (born 1865), the younger sons of Christian and Caroline, indicate in official records that they were born in Jefferson county. Legal documents from the Kinnard family also place the family in Jefferson county. According to a "Petition of Benjamin F. Kinnard for Partition of the Estate of Thomas Kinnard deceased," Thomas and Mary had seven children who were still living at the time of his death in 1858, including "Caroline, married to Christopher Hoover (in Jefferson county)."8 Documents for Caroline's estate also include claims against B.F. Kinnard, L. Kunkle, and W. Mansfield.9 William Mansfield married Christina Kinnard and Sibeas Kunkle married Sarah Anne Kinnard, daughters of Thomas and Maria (Fisher) Kinnard. These documents connect our Caroline (Kinnard) Hoover as the daughter of Thomas and Maria (Fisher) Kinnard of Armstrong county.
Additional information seems to place the couple in Jefferson even earlier. A Christian Hoover was drafted in 1865 from Gaskill township in Jefferson county.10 Gaskill township is the next township over from Henderson township. Additionally a Christian Hoover was elected as a school director in Henderson township in 1857.11,12 And according to tax records a Christ Hoover was included in the 1858 taxables list also for Henderson township.13 If this proves to be our Christian Hoover, then it is likely that Samuel and possibly Reuben were also born in Jefferson county.
So, when did they come to Jefferson county? When and why did the family leave Jefferson county? What made them come to Clearfield county? These are still questions to be answered.
After Caroline's death, Christian married for a second time in Clearfield county, Pennsylvania. His second wife was Mary A. Conaway. She was born in Mar 1863 in Pennsylvania.14 Mary died sometime after the 1920 census.15
Christian and Mary had one child:
Eva Edith Hoover

(1887—?) married William J. Orr (1886—?)
The couple may have had another child as an Ida Hoover (1885-1894) is buried beside Mary Ann in Falls Creek, Washington Township, Jefferson County, Pennsylvania. If so, she was not identified in Christian's estate papers that I have found.
After Christian's death in 1887, Mary sold her rights to the family farm to her step-son, Samuel Hoover. She apparently moved to Jefferson county and remarried as she was listed on the census for Falls Creek Borough, Washington township, Jefferson county, Pennsylvania in 1900 with her new family. According to the 1900 census, Mary had 8 children with David Fry, her new husband, by 1900—though only three of those children—Johny, Lottie, and Lizzie—were still living by that year.16 By 1920, Mary's second husband, David, was dead. Mary had a business on Main street—a general store—which she shared with another widow.17
Cite This Page:
Kris Hocker, "Christian Hoover," /genealogy the genealogy & family research site of Kris Hocker, modified 24 Nov 2013 (http://www.krishocker.com/family-group-sheets/christian-hoover/ : accessed 3 Sep 2015).
Content copyright © 2013 Kris Hocker. Please do not copy without prior permission, attribution, and link back to this page.