I've started uploading additional images to a new set of pages in the Galleries section of this site. The first new page is a family photos page for the Greulich family. It includes family portraits from 1887, 1901, 1929, and 1941/2, starting with a family portrait of the Karl Philipp and Caroline K. (Wolf) Greulich family.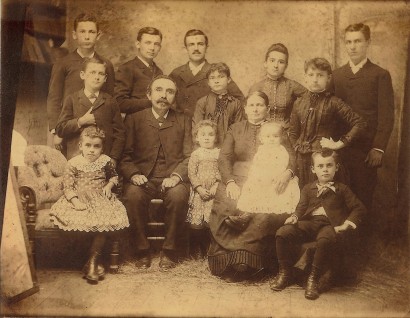 Karl was the first Greulich in our family to settle in America. He emigrated from Haag, Germany in 1855 after the death of his parents Georg Philipp and Anna Margaretha (Wurzel) Greulich. He was 17 years old. Sometime after his arrival, he anglicized his first name to Charles. He married Caroline K. Wolf, daughter of Joel and Elizabeth (Krauss) Wolf of Upper Hanover Township, Montgomery County, Pennsylvania in August 1864. He had previously been married to Caroline's sister Susanna K. Wolf, who died in 1863. Charles and Caroline had children: Clarence Jefferson (1865-1865), Morris Linton (1866-1931), Irwin Franklin (1867-1934), Charles Ambrose (1869-1942), Chester Daniel (1871-1939), Lily Elenora (1873-1936), Hannah Louisa (1875-1929), Nevin Wilson (1876-1949), Anna E. (1878-1945), Elmer Calvin (1880-1947), Flora (1883-1950), Carrie A. (1885-1963), Katharine Jane (1887-1960). Charles and Susanna had one child Emilie Matilda (1863-1863).
I hope to also be including a family documents gallery which will hold scanned deeds, wills, estate records, etc.—basically any documentation of interest. This will also allow me to link from the footnotes on my family pages directly to the relevant document.