Last week I posted a photo of Levi F. Hocker from his days in the Pennsylvania cavalry during the Civil War and mentioned that his brother Benjamin W. Hocker had supported his injury claim in his request for a pension in 1892. Going through the records I have on Benjamin W. Hocker, I realized that I'm missing a couple of census records—amongst other records—for him, including the 1900 and 1920 census enumerations. Fortunately, I was able to locate one of those records.
In 1880, Benjamin and his wife Margaret were living in Middlesex Township, Cumberland County, Pennsylvania.1 This household included:
Benjamin W. Hocker, age 33, Farmer
Margaret Hocker, age 32, wife, Keeping house
Minnie S. Hocker, age 11, daughter
Adam S. Hocker, age 9, son
Lora L. Hocker, age 7, daughter
Helen A. Hocker, age 3, daughter
Frank Hocker, age 6 months (born Feb), son
Adam Hocker, age 77, father
I haven't found Benjamin in 1900, but his wife Margaret and three of their children—Mary [Minnie] S., Helen A., and Morris G.—were living with her brother Frank Beltzhoover in Carlisle.2 In 1905, Benjamin received a patent for 160 acres in Berlin, Roger Mills County, Oklahoma and he can be found living there in 1910, working as a stock trader.3 He allegedly died in Berlin in 1925, but I did not find him there in the 1920 census.
Another check of the Bureau of Land Management records showed that Benjamin received a patent for 480 acres of land in Brown County, Nebraska on 13 April 1914.4 The land was located in the "south half of the southeast quarter of Section twenty-two, the east half of Section twenty-seven, and the west half of the southwest quarter of Section twenty-six in Township twenty-five north of Range twenty-two west of the Sixth Principal Meridian, Nebraska." I looked at a map for the county and, based on the BLM's plat map, determined that this land was likely in Chester or Calamus townships. Scrolling through the 1920 census for these precincts yielded a successful result: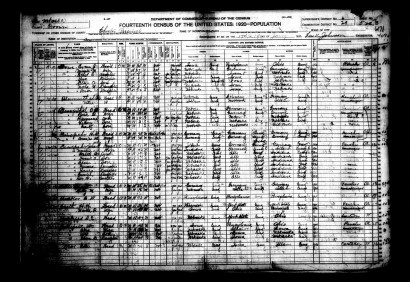 B.W. Hocker is listed as a 73 year-old rancher on line 84. He was born in Pennsylvania, owned his own home, and was widowed.5 His youngest son was living in nearby Blaine County, Nebraska in 19106 and 1920.7
Still looking for his 1900 census record. I've located his wife and all his children and he's not with any of them. I haven't found him through any of the census indices, so who knows how his name is indexed—if it is. I guess I need to locate all his siblings in 1900. He didn't receive his land in Oklahoma until 1905, so it's possible he's still in Pennsylvania in 1900.