According to the marriage record I found for my ancestors James Smith and Isabella Aitken, they were married 25 Dec 1840 in Carnwath Parish, Lanarkshire, Scotland.1 This couple has been very difficult to document. After much struggling, I managed to find them in Whitburn, Linlithgow, Scotland in the 1851 census, but hadn't been able to locate them in the 1841 census.
I also had Isabella's parent's names—William Aitken and Marion Brown2—from her 1856 death certificate, but hadn't been able to locate a birth record or any proof of her parentage. Her brother-in-law William Smith was the informant on her death certificate and I can't be sure how much he actually knew about her ancestry.
A new search through the records on ScotlandsPeople.gov.uk netted me, not only James and Isabella in the 1841 census, but also her parents and two siblings!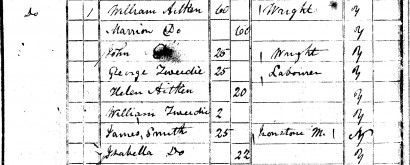 The James and Isabella (Aitken) Smith were living with her parents, William and Marion (Brown) Aitken in Auchengray, Carnwath Parish, Lanarkshire in 1841. The household included:
William Aitken, 60, Wright, born in Lanark
Marion Aitken, 60, born in Lanark
John [Aitken], 25, Wright, born in Lanark
George Tweedie, 25, Laborer, born in Lanark
Helen Aitken, 20, born in Lanark
William Tweedie, 2, born in Lanark
James Smith, 25, Ironstone M., not born in Lanark
Isabella Smith, 22, born in Lanark
This information allowed me to also find a birth record for Isabella by both widening the search—searching by surname only—and narrowing the search to only Carnwath parish. That got me one result: Isobel Aitken.

Isabella was born 27 Feb 1816 and baptized 24 Mar 1816 in Carnwath, Lanarkshire, Scotland. So, her age in 1841 was 25, not the 22 as recorded, but age discrepancies like this are quite common in census records. John and Helen Aitken's ages are incorrect, too. Records found on FamilySearch.org put John's birth as 11 Mar 1814 and Helen's baptism on 19 Aug 1819.
So, with some diligence and a little luck, I was finally able to document my difficult Smith line back one more generation in Scotland! Now to try my luck with Thomas Smith & Agnes Nimmo, James' parents.
Footnotes
James Smith and Isabella Aitkin married record, Register of Proclamations of Banns and Marriages, Parish of Carnwath, County of Lanark, dated 25 Dec 1840 (extracted 29 June 2006), General Register Office, Edinburgh, Scotland ↩
Isabella Smith, death certificate no. 54 (1856), Parish of Whitburn, County of Linlithgow, General Register Office, New Register House, Edinburgh, Scotland, 8 June 2006. ↩
Cite This Page:
Kris Hocker, "Friday Find: Smith-Aitken, 1841 Scottish Census," /genealogy the genealogy & family research site of Kris Hocker, modified 30 Dec 2011 (http://www.krishocker.com/friday-find-smith-aitken-1841-scottish-census/ : accessed 3 Sep 2015).
Content copyright © 2011 Kris Hocker. Please do not copy without prior permission, attribution, and link back to this page.