On 22 November 1717, the Proprietaries of Pennsylvania warranted 5,000 acres to Martin Kendig and John Herr in then Conestoga, Chester County.[1]  I. Taylor surveyed 210 acres on the Pequea, adjoining Widow Hoober, Ulrich Hoober, and John Ffarrer, part of the 5,000 acres warranted to Martin Kendig and John Heer, to Hans Boyer on 10 May 1719.[2] Hans patented this tract on 26 November 1739.[3]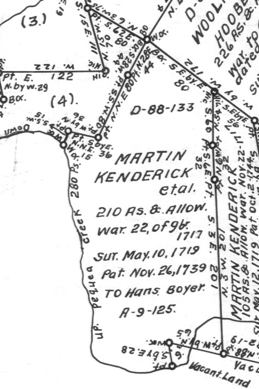 Hans Boyer and his wife Barbara sold 210 acres, adjoining John Forrer, Ulrich Huber, and the Widow Hoober, to their son Samuel Boyer on 27 March 1748.[4] Samuel Boyer and his wife Mary solid 1 acre to the Mennonist Conegregation on 10 December 1755.[5] This became the Byerland Mennonite Meeting house.
On 10 January 1758, Samuel and Mary Boyer sold 14 acres to Tobias Boyer.[6] Two years later on 3 October 1760, Tobias and Mary Boyer sold two tracts—including these 14 acres—to David Worley.[7] David and his wife Ann then sold these two tracts to Christian Line on 11 March 1769.[8]
On 10 August 1769, Samuel and Mary Boyer sold 195 acres to Abraham and Mary Hess.[9] Several months later, Abraham and Mary Hess sold the 195 acres to Jacob Smith.[10] In November 1770, Jacob Smith purchased two tracts of land—including the 14 acres—from Christian and Anna (Boyer) Line.[11]
Jacob and Magdalena (Good) Smith sold two tracts—ten acres 126 perches and one acres 58 perches—to Abraham Kagey on 22 June 1776.[12] The couple sold 60 acres to John Funk.[13] On 15 October 1780, John and Ann Funk confirmed these same 60 acres back to Jacob Smith.[14] Then on 20 December 1784 Abraham Kagey's executors—Abraham Kagey Jr. and Christian Shank—sold the two tracks totaling about 11 acres purchased from Jacob Smith to Andrew Sureus.[15] Andrew & Catherine Surearus sold on 13 September 1790 two tracts to Christian and Peter Huber—one of 10 acres 126 perches and the other one acres and 58 perches.[16]
After Jacob Smith's death, the 195 acres he owned were partitioned into two sections. The first, containing 125 acres 50 perches was granted to Jacob Smith [Jr.]. The other contained 72 acres 78 perches (not including the acre deeded to the Mennonists) and was granted to Christian Smith. Jacob Smith renounced his claim to the 125 acres, so it was awarded to Abraham Smith, the third son. However, Abraham then sold this parcel to Jacob on 11 April 1805.[17] Then in May 1805, Jacob Smith sold to his brother Christian two tracts from the 125 acres—one of 40 acres 150 perches, adjoining land of Jacob Smith, Abraham Huber, Henry Zercher and Christian Smith, the other of three acres 140 perches, adjoining land of Jacob Smith, Christian Smith and Pequea Creek.[18]
Cite This Page:
Kris Hocker, "Hans Boyer's Conestoga Tract," /genealogy the genealogy & family research site of Kris Hocker, modified 16 Apr 2012 (http://www.krishocker.com/hans-boyers-conestoga-tract/ : accessed 22 Dec 2014).
Content copyright © Kris Hocker. Please do not copy without prior permission, attribution, and link back to this page.