An examination of Martic Township, Lancaster County tax lists available for the years 1751 through 1772 shows the following Hoovers in the township.1
1751
Jacob Hover
Henry Houer
John Hover
1754
Jacob Hover
Henry Hover
John Hover
Jacob Huver (weaver?)
1756 (Tax list)
1756 (Assessment)
Jacob Hover
Jacob Hover
Wm Hover
John Hover
Henry Hover
1757
Jacob Huber
Jacob Hover
Henry Hover
Willm Hover
Henry Hover (weaver)
Freemen: Jacob Huber
1757
Jacob Hover (Jr.?)
Jacob Hoover "sener"
Henry Hover
1758
Jacob Hover (weaver)
Jacob Hover
Jacob Hover the bigg
Henry Hover
John Hover
15 Nov 1758
Jacob Hover (weaver)
Jacob Hover
Jacob Hover (ye bigg)
Henry Hover
John Hover
1759
John Hover
Jacob Hover (weaver)
Jacob Hover
Henry Hover
Ulrick Hover
Widow Hover
7 Dec 1769
John Hover (weaver)
John Hover
Woolery Hover
Jacob Hover (Henry's son)
Freeman: Chr Huber
1770 (Assessment)
John Hover (weaver)
John Hover
Wolery Hover
Jacob Hover
Jacob Hover
1770 (Tax list)
Jacob Hover (Henry son, 80 acres)
John Hover (weaver, 100 acres)
Jacob Hover Jr. (100 acres)
Willery Hover (50 acres home place, 200 acres)
1771
Jacob Hover Sr. (100 acres)
John Hover (100 acres)
John Hover (on Beaver Creek, 80 acres)
Jacob Hover Jr. (100 acres)
Woolery Hover (weaver?, 80 acres)
Wilory Hover (200 acres)
1772
Jacob Hover Sr.
John Hover
John Hover (Beaver Creek)
Jacob Hover Jr.
Wilrick Hover (weaver)
Wilrick Hover
Mathias Hover
These Hoover families (4~5 families) have been referred to as the Byerland Hoovers because of their proximity to the Byerland Meeting house in Martic Township. They lived in southeastern Conestoga Township (now Pequea Township) and northwestern Martic Township (now Providence Township). The original settlers included Ulrich Huber (ca 1703—1757), Jacob Huber (ca 1698—bef 23 Nov 1739), Henry Huber (bef 1712—1758), Henry Huber (bef 1719—1767/69), and Jacob Huber (ca 1698—1759), son of Hans Huber of Earl Township.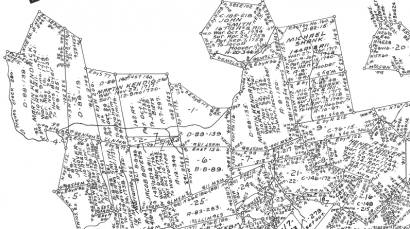 Ulrich Huber's Conestoga Township property was just to the north of and adjacent to Jacob Huber's and Hans Boyer's properties (see top left of the image).
Footnotes
1751-1772 Tax Records, Martic Township, unpaginated, Lancaster County; Pennsylvania State Archives, records group 47, microfilm roll 6058 ↩
Cite This Page:
Kris Hocker, "Hoovers in Martic Twp Tax Lists, 1751-1772," /genealogy the genealogy & family research site of Kris Hocker, modified 1 Jan 2011 (http://www.krishocker.com/hoovers-in-martic-twp-tax-lists-1751-1772/ : accessed 31 Aug 2015).
Content copyright © 2011 Kris Hocker. Please do not copy without prior permission, attribution, and link back to this page.