On 28 October 1728, the survey of Hans Line's adjacent property indicates that this land or that warranted to Hugh Patten (or both) was of Christian Prenaman.[1] Five years later, John Goughnour had his adjacent land surveyed and his survey also indicated that this tract was of Christian Prenaman.[2]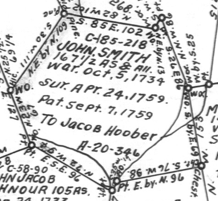 John Smith was issued a warrant for 200 acres on Pequea Creek on 5 October 1734.[3] Bartram Galbraith surveyed 167.5 acres for John Smith on 24 April 1759. Adjoining landholders included Jacob Coghnor, John Lyne, Abraham Beam, Henry Rush, John Hoover, Jacob Hover.[4]
Smith must have either abandoned the tract or sold his interest in it, because Jacob Hoover, owner of an adjoining tract of land, patented these 167.5 acres on 7 September 1759.(see Patent Book A20:346)[5] Jacob's son Christian inherited the land from his father on 12 September 1759.[6]
On 26 November 1761, Christian sold this tract to  John Jacob Goughnour.[7] Jacob Goughnour's heirs—John & Elizabeth Kochenauer, Christian Kochenauer, Henry & Ann Kochenauer, Abraham Kochenauer, Adam Kochenauer, Tobias Kochenauer, Christian & Catharine (Kochenauer) Hess, Joseph & Esther Kochenauer—sold Jacob Gochenour, their brother, 167.5 acres from their father's estate on 4 November 1780. It adjoined land of the Goughour heirs, John Line, land late of Abraham Beam, Henry Rush, John Hoover, and Jacob Hoover.
Cite This Page:
Kris Hocker, "John Smith's Conestoga Tract," /genealogy the genealogy & family research site of Kris Hocker, modified 22 Jan 2014 (http://www.krishocker.com/john-smiths-conestoga-tract/ : accessed 1 Feb 2015).
Content copyright © Kris Hocker. Please do not copy without prior permission, attribution, and link back to this page.