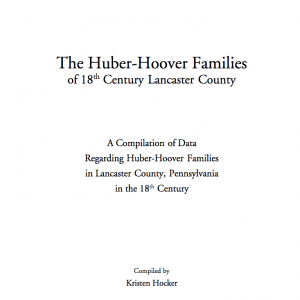 I've just finished indexing my latest writing endeavor "The Huber-Hoover Families of 18th Century Lancaster County."
This book is a compilation of raw data I've gathered and includes deed abstracts, warrant and patent lists, and last will & testament transcriptions for Hoovers across Lancaster County, Pennsylvania in records from 1729 through 1800.
It represents a large chunk of my Hoover surname research and the data has been instrumental in helping to build a clearer picture of these early families. I hope it will help you!
Stay tuned for the publication information or sign-up for the mailing list for the book "Hoover Families of Lancaster County."