I've been working on the Philadelphia Hocker branch of the family for my book A Hacker/Hocker Family recently. (Lots of new information and lines!) Imagine how happy I was to find the "Mapping West Philadelphia: Landowners in October 1777" website.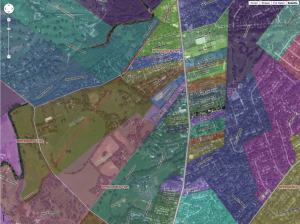 It's a "web-based, geographic data application open to the public. It was developed by the University of Pennsylvania's University Archives and Records Center from research provided by J.M. Duffin. The website is designed to assist scholarly research and the general public in efforts to analyze, interpret and understand the history of the growth of West Philadelphia and the greater Philadelphia area at the time of the American Revolution."
It shows road and land owners from 1777 in situ. You can see the location of a tract of land in relationship to roads, other land owners, and the 1777 township borders. You can even turn on a modern street overlay so you can see where the tract is in relationship to modern roads—perfect for locating an ancestors' tract! Select your choice of streets, terrain, even a Google satellite image as a background with the tracts as overlay.
I've had a good idea of where George Hocker's tract sat, but finding this site verified the information I had. For some reason, I was surprised to see how close it was to Germantown.
For someone like me who loves to use land patents and deeds to track the ownership of parcels of land to help define relationships among people, this site is a fantastic find!