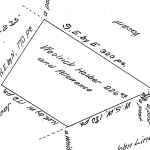 Last week's article for the "Along the Pequea" series, traced the land transactions of Hans Line's property. This week, we'll follow the transactions of his neighbor, Ulrich Huber.
On 13 February 1805, the Martic Township school board included: Henry Bowman, Martin Huber, Benjamin Hart, Christian Musser, Daniel Herr, Martin Eshleman, Martin Huber (joiner), Isaac Herr, Joseph Bassler, Jacob Huber, Jacob Kochenauer, Henry Resh, John Kindig, Jacob Brubacher, John Winter, John Huber, John Huber Junr., Abram Kochenauer Senr., Abram Kochenauer Junr., George Hess, John… read more
Jacob and Anna Maria (___) Hoover both died in German Township, Fayette County, Pennsylvania in 1800 and 1808, respectively. Their children can not be found in the township after 1816. Where did they go?