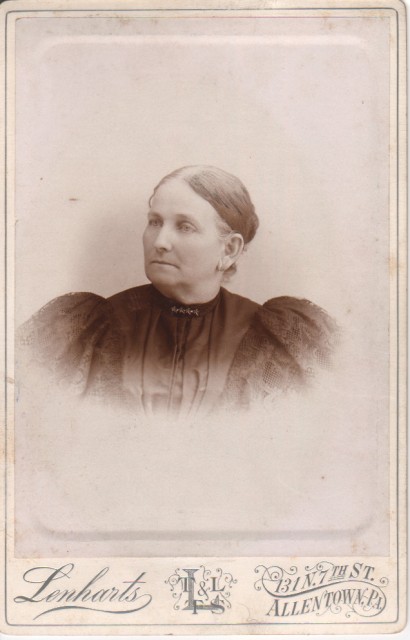 Caroline K. (Wolf) Greulich, daugher of Joel and Elizabeth (Krauss) Greulich, was born 10 Mar 1845 and died 24 Apr 1915 in East Greenville, Montgomery county, Pennsylvania.
She was the second wife of Charles Philipp Greulich, son of Georg Philipp and Anna Margaretha (Wurzel) Greulich. The couple married 17 Aug 1864 and had 13 children, one of whom—Clarence Jefferson—died as an infant.
Cite This Page:
Kris Hocker, "Photo: Caroline (Wolf) Greulich," /genealogy the genealogy & family research site of Kris Hocker, modified 4 Jan 2010 (http://www.krishocker.com/photo-caroline-wolf-greulich/ : accessed 1 Sep 2015).
Content copyright © 2010 Kris Hocker. Please do not copy without prior permission, attribution, and link back to this page.