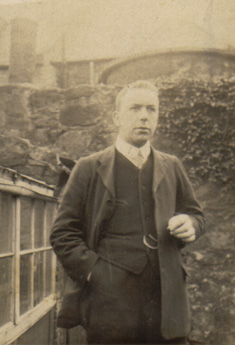 Craig Bonnington, son of Peter Purvis and Elizabeth (Buchanan) Bonnington, "in the back green," presumably at the family home in Lasswade, Edinburgh, Scotland. Craig's son with Isabella Mason Kinghorn, Craig Kinghorn Bonnington left Scotland in 1958 for New Zealand.
Cite This Page:
Kris Hocker, "Photo: Craig Bonnington," /genealogy the genealogy & family research site of Kris Hocker, modified 4 Jan 2010 (http://www.krishocker.com/photo-craig-bonnington/ : accessed 31 Aug 2015).
Content copyright © 2010 Kris Hocker. Please do not copy without prior permission, attribution, and link back to this page.