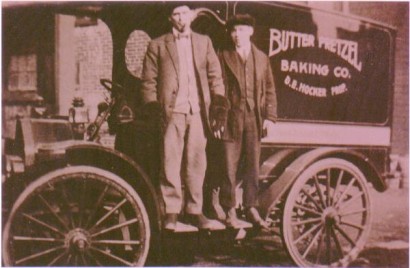 David Elmer Hocker was listed as a baker in the 1910 US census and as a baker for the Butter Pretzel Baking Co. in 1930. According to the above photo, David Hocker was the proprietor of the Butter Pretzel Baking Co. in Harrisburg. His sons were also employees of the company in 1930.
Cite This Page:
Kris Hocker, "Photo: David Elmer Hocker Butter Pretzel Baking Co. Truck," /genealogy the genealogy & family research site of Kris Hocker, modified 31 Aug 2014 (http://www.krishocker.com/photo-david-elmer-hocker-butter-pretzel-baking-co-truck/ : accessed 1 Sep 2015).
Content copyright © 2014 Kris Hocker. Please do not copy without prior permission, attribution, and link back to this page.