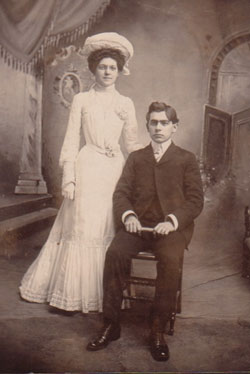 Elmer Calvin Greulich, son of Charles Philipp and Caroline K. (Wolf) Greulich, married Lillian Witmer Snyder, daughter of Henry D. and Saraphine K. (Witmer) Snyder, on 21 Sep 1901 in East Greensville, Montgomery county, Pennsylvania.
Cite This Page:
Kris Hocker, "Photo: Elmer and Lillian Greulich," /genealogy the genealogy & family research site of Kris Hocker, modified 25 Dec 2010 (http://www.krishocker.com/photo-elmer-and-lillian-greulich/ : accessed 3 Sep 2015).
Content copyright © 2010 Kris Hocker. Please do not copy without prior permission, attribution, and link back to this page.