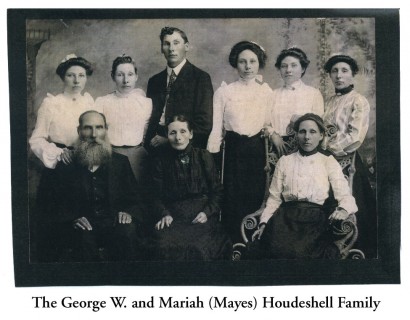 George W. Houdeshell, son of Adam and Mary (Sine) Houdeshell, married Mariah Mayes, daughter of John and Mary A. (___) Mayes, 14 May 1865 in Snow Shoe, Centre county, Pennsylvania. Mariah was the sister of Phoebe Mayes, wife of George's brother Benjamin.
George and Mariah had 10 children, 7 who survived: Mary Louise, Rachel Anne, Amanda, Hetty May, Drusilla, Pleasant (son), and Cora.
Photo courtesy of Diana Townsley

Cite This Page:
Kris Hocker, "Photo: George W. Houdeshell Family," /genealogy the genealogy & family research site of Kris Hocker, modified 26 Feb 2009 (http://www.krishocker.com/photo-george-w-houdeshell-family/ : accessed 3 Sep 2015).
Content copyright © 2009 Kris Hocker. Please do not copy without prior permission, attribution, and link back to this page.