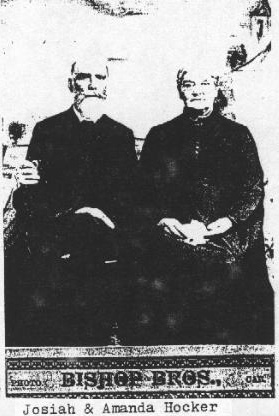 Josiah HOCKER, son of Johannes W. and Elizabeth (HENRY) HOCKER married Amanda Catherine HAMILTON, possibly the daughter of William and Elizabeth (___) HAMILTON on 30 Dec 1852 in York Springs, Pennsylvania. Amanda died in 1877.
Josiah married second Martha J. (___), probably in Cumberland county sometime between 1877 and 1880. In 1886, Josiah moved—with some of his family—to Maywood, Nebraska, then to Atchison, Kansas, and later Lincoln, Nebraska.
Given their approximate ages, this photo is most likely NOT Josiah and Amanda, but Josiah and Martha, his second wife.
Photo courtesy of Elizabeth Hoke