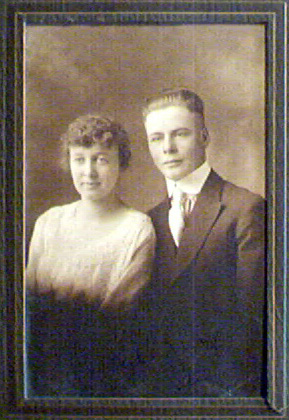 A photo of Mary Crum HOCKER, daughter of Samuel Augustus and Amanda Elizabeth (CRUM) HOCKER of Macon county, Illinois, and Lloyd STICKEL, son of Nathan E. and Mayme (HILL) STICKEL also of Macon county, Illinois. Lloyd and Mary married circa 1920 in Illinois. The couple had four children: Kenneth H., Robert E., Beverly, and Lloyd STICKEL.
Cite This Page:
Kris Hocker, "Photo: Lloyd STICKEL and Mary Crum HOCKER," /genealogy the genealogy & family research site of Kris Hocker, modified 4 Jan 2010 (http://www.krishocker.com/photo-lloyd-stickel-and-mary-crum-hocker/ : accessed 30 Aug 2015).
Content copyright © 2010 Kris Hocker. Please do not copy without prior permission, attribution, and link back to this page.