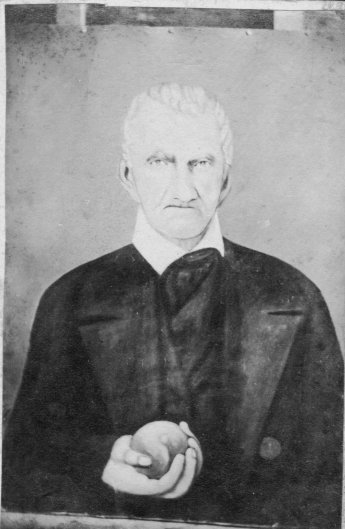 Martin Hocker, son of Johan Adam and Maria Elisabetha (Weidman) Hacker, was born 21 Oct 1768 in Cocalico township, Lancaster county, Pennsylvania and died 25 Apr 1862 in Derry township, Dauphin county, Pennsylvania. Martin came to the Harrisburg area from Lancaster county about 1787. Hockersville in Derry township was named in his honor.
"In addition to his agricultural labors, he was, for more than 40 years, in the hotel business. He was a democrat in politics, occasionally serving local offices and in 1830 served as County Commissioner. He was also one of three men appointed  to make surveys for the line that separates Dauphin County from Lebanon County."
Photo courtesy of Jessica Bell
Cite This Page:
Kris Hocker, "Photo: Martin Hocker," /genealogy the genealogy & family research site of Kris Hocker, modified 4 Jan 2010 (http://www.krishocker.com/photo-martin-hocker/ : accessed 27 Aug 2015).
Content copyright © 2010 Kris Hocker. Please do not copy without prior permission, attribution, and link back to this page.